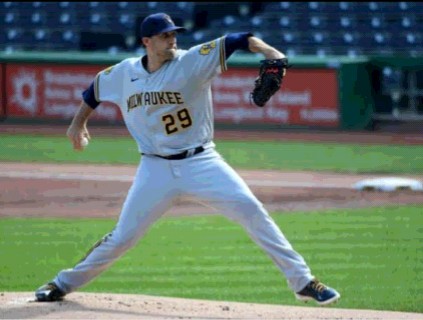 KBO League MVP Joshua Lindblom of Milwaukee Brewers collapsed again.There is no rebound in the second season of the major league return.
Lindblom made a relief appearance as a second pitcher in the away game against the Chicago Cubs in the 2021 Major League, played at Wrigley Field in Chicago, IL on the 24th,3⅔innings, 9 hits (3 homers), 3 walks, 5 strikeouts, and 8 runs.Collapsed. The average ERA for the season soared to 10.97.
Lindblom,who was eliminated from the pre-season starter and started as a bullpen, made the appearance 9 days after the Cubs match on the 15th.Milwaukee starter Brett Anderson complained of knee pain and was grated after 11 pitches in ⅓innings.Lindblom was hit because of the sudden start. As soon as he started, he conceded consecutively, allowing four consecutive on-bases with three hits and one walk. In the second inning, he allowed a back-to-back home run to Anthony Rizzo and Javier Baez, and was beaten by Jason Heyward with one RBI and two bases, resulting in four runs.
He blocked the 3rd inning without a run, but gave a solo home run to Jake Marisnick in the 4th and further conceded.He held the mound up to the 4th inning and threw 80 balls. Milwaukee, with Lindblom torn down, was defeated 2-15 by the Cubs.
The eight runs scored the most in a single match by Lindblom, who debuted at the Los Angeles Dodgers in 2011 and is having their seventh season in the Major League.The third home run is the second after last year. He completely fell into a batting ball pitcher and even soared his average ERA to double digits. Worst performance since his big league debut.
Lindblom played a special performance for five years in the 2015-2019 KBO League Lotte Giants and Doosan Bears. After winning the KBO League MVP in 2019, he returned to the big league with a contract with Milwaukee for a 3-year contract of $9125,000. However, he fell short of expectations with an average ERA of 5.16 in 12 matches last year, and did not get a chance to start in the postseason.
There is no rebound this year, the second season of his comeback. In the demonstration game, 4 games (3 starters), 1 win, 2 losses, average ERA of 4.66, was pushed out of the 5th starting competition, and is being hit every day in the bullpen.Even getting into the big leagues is dangerous now.The face of the KBO League MVP pitcher became nonsense.