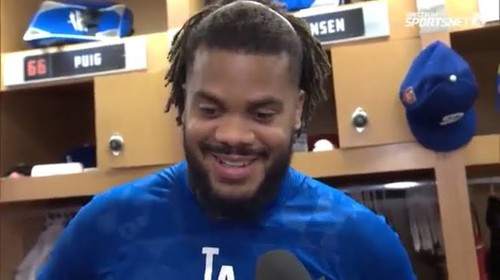 The Los Angeles Dodgers beat the Toronto Blue Jays 2-1 with Max Muncy's walk-off home run in the bottom of the 10th inning in the second game of their third consecutive Interleague game at Dodger Stadium.
The Dodgers seemed to win 1-0 on starter Walker Buehler's seven scoreless innings and Will Smith's home run that exploded in the fourth inning, but Closer kenley Jansen allowed an equalizer in the top of the ninth to start extra innings.
The Dodgers, which had a 1-0 lead, put Joe Kelly on the mound in the top of the eighth. Kelly ended the inning with a triple and the Dodgers put Kenley Jansen on the mound in the top of the ninth. Jansen struck out the first batter. But after a tight race from the next batter, Rowdy tellez, to the 3B-2S full count, he threw a 93-mile-per-hour cutter in the eighth, but the ball went over the right-center fence.
Dodgers manager Dave Roberts was bombarded with questions about Jansen after the game. "Jansen made some mistakes, but he pitched well," Roberts said. In my opinion, I could have thrown a slider low when I faced the Tellez, who hit a home run, but threw a lot of balls. It's not a bad ball, but if you keep throwing a similar ball to a power-hitter like the Tellez, you can't get a good result.
Dave Roberts, a correspondent for the Los Angeles Dodgers.
When asked if Jansen's cutter depended on it, he said, "I talked to Jansen about it, and he knows it. Jansen has a desire to win if he can get it out with a cutter, but he doesn't have to throw other pitches. There are some things that need to be learned over and over again through practice. Still, I think Jansen's balls were great, as was the ball that hit the homerun today.
When asked if there is any chance of using Joe Kelly or other pitchers as closers, Roberts said, "It's good to have other options. But still Kenley is our closer.
After Roberts' interview, reporters waited for Jansen in the clubhouse. It was long past the shower and Jansen was out of sight. "Jansen is in the middle of a meeting, said an official at the Dodgers' public relations office. Jansen is currently the Dodgers' biggest vulnerability.