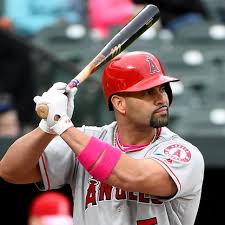 It is not easy to see four MVPs playing on one team.This time, Albert Pujols was traded to the Los Angeles Dodgers, with four MVPs playing in one team in 15 years.
The Dodgers had three MVPs, including Cody Bellinger (2019, NL), Mookie Betts (2018, AL), Clayton Kershaw (2014, NL), this season.Pujols was named the National League MVP in 2008 and 2009 during the St. Louis Cardinals, the fourth in major league history.The first four MVPs met in one team was the Cincinnati Reds in 1978.Pete Rose (1973, NL), Joe Morgan (1975, 1976, NL), George Foster (1977, NL) and Johnny Bench (1970, NL) played together. Four years later in 1982, Rod carew (1977, AL) Fred Lynn (1975, AL) Don Baylor (1979, AL) Reggie Jackson (1973, AL) gathered at the Los Angeles Angels, and 14 years later, in 1996, the Boston Red Sox. Roger Clemens (1986, AL), Jose Canseco (1988, AL), Kevin Mitchell (1989, NL), and Mo Vaughn (1995, AL) gathered.
Bellinger,mookie and Kershaw are still active in the team, but Pujols is not easy to play.Pujols,who played in 24 games at the Los Angeles Angels this season, was batting 19 percent, 8 ri and 5 home runs.
In the KBO League, four MVPs never played together.The most frequent were 3 people.There were only twice.In 1995, kim seong-han (1985, 1988),Sun Dong-yol(1986, 1989, 1990) and Lee Jong-beom(1994) played at the kia tigers in 1995. 2009) came as a trade,and three MVPs played.