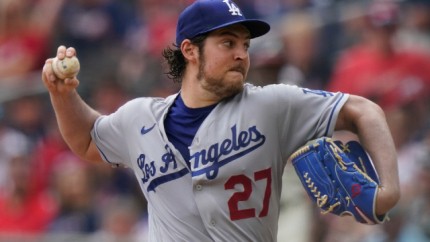 The Los Angeles County Prosecutor's Office, which is investigating Bauer's sexual assault allegations, announced on the 9th that Trever Bauer, who was being investigated for sexual assault charges in July last year, will not be held liable for any criminal responsibility.

It means that he has escaped legal punishment. It is not known exactly why the prosecution granted the indulgence to Bauer,but it appears that he has not found any conclusive evidence that he committed sexual assault.Bauer has been under investigation by prosecutors for the past six months on charges of violence against a woman in San Diego last year.
However,whether Bauer will be able to return to the mound this season remains to be seen through the results of MLB's own investigation.MLB said on the same day,The investigation into Bauer is ongoing.When the time is right,we will announce the results of the matter.
The Dodgers also said,The MLB investigation is ongoing and there is nothing to comment on until a conclusion is reached.Even if Bauer is released from legal responsibility,MLB may suspend the game under its domestic violence policy.Dodgers Julio urias,for example,was arrested and released on domestic violence charges in May 2019, but was banned from playing for 20 games by MLB.
Bauer's whereabouts this season will ultimately depend on the will of MLB and the Dodgers.MLB considers Bauer's allegations to be very serious,so some level of disciplinary action is expected.In particular,even after being sued by prosecutors last year, Bauer delivered inappropriate messages online during the postseason,resulting in the worst public opinion.
Immediately after the prosecution's announcement on the same day,the LA Times said,Now is the time for the Dodgers.But he won't bring him back and he shouldn't,he urged him to sever ties with Bauer.
The Los Angeles Times said,The Dodgers should have broken up with Bauer months ago.Now the Dodgers have to promise their fans and the community that Bauer will never wear a Dodgers jersey again.
But it's not easy for the Dodgers to give up on Bauer.If MLB imposes a ban on Bauer,he must pay his annual salary minus the amount corresponding to the number of games played.Bauer's annual salary this year is $32 million.He also has a $32 million salary set for next year.The Dodgers signed a three-year, $102 million contract with free agent Bauer a year ago.It is the business principle that he has to extract as much as he has invested,but he cannot abandon it.
Moreover, as the LA Times noted,the Dodgers starting lineup is at its worst right now.Except for Walker Buehler and Urias, there is no reliable starter. Even renewing his contract with FA Clayton Kershaw doesn't guarantee his health. Bauer is the first pick. If Bauer is released, his salary must be paid according to his annual salary, and his rotation power becomes negative that much.
Will I be able to end the relationship with all of this? Bauer received the Cy Young Award in 2020 and threw 107⅔ innings in 17 games before receiving administrative punishment last year, posting 8-5, a 2.59 ERA and 137 strikeouts. There is no such thing as the devil's talent.