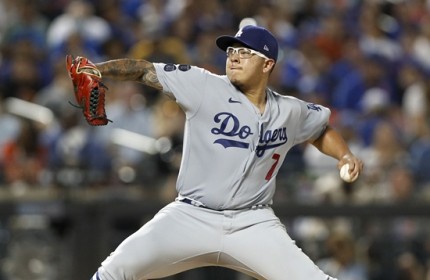 The Los Angeles Dodgers mound is getting stronger. The return of Julio Urias is imminent.
MLB.com reported on the 19th,Urias played a simulation game on the 19th and is expected to return on the 25th, when he can come back.His starting game is expected to be the first game in the series against the San Diego Padres.
Urias started against the New York Mets on the 14th and was hit in the calf during the 4th inning.After that, Urias pitched and played five innings.However, he was placed on the 10-day injured list.
Fortunately, Urias avoided serious injuries and skipped the rotation only once.The Dodgers filled the void in Uriah with a pitch from new stealer Mitchell White.If Urias can return to San Diego on the 25th as the media's observatory, mound operation will be easier.The bullpen, which was heavily consumed,will also reduce the burden of stamina.
Urias,who made his mark this year, is having a career-high season with a 3.29 ERA of 13-3, 139⅔ innings and 149 strikeouts in 24 games. Ace Clayton Kershaw, as well as Trevor Bauer, Dustin May and Tony Gonsolin left the starting rotation.
The Dodgers are currently out of all professional starters, with the exception of Walker Buehler, Max Scherzer, and David Price.However, White rose as a new hope by throwing a scoreless 7⅓ inning against the Pittsburgh Pirates on the 19th.
If Urias can join the rotation against hard enemy San Diego, that's a win-win. Attention is focused on whether our AS will be able to revitalize the Dodgers mound with his return.