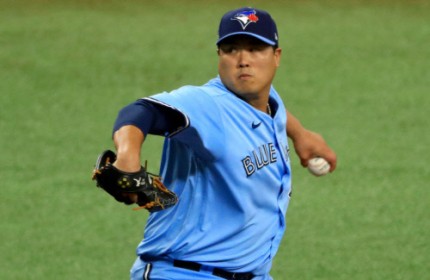 Ryu Hyun-jin of Toronto Blue Jays decided to continue training at Hanwha's spring camp site,his professional team due to the closure of the American Major League job.
According to Hanwha officials on the 26th,Ryu Hyun-jin asked if training could be held at the Geoje subcontracted sports town facility, and Hanwha gave permission.Hanwha will move to Geoje, Gyeongnam on the 31st and conduct the first spring camp training until the 19th of next month.
Ryu Hyun-jin is scheduled to start training on the 3rd of next month, after the Lunar New Year holiday. A Hanwha official said,he can warm up with there teammates,but I think the full-scale training will be conducted according to our own training routine and schedule because we have Ryu Hyun-jin's personal trainer.
Ryu Hyun-jin, who entered Korea on October 9 last year, took a short break and then trained at 54K Sports, run by former Hanwha pitcher Kwang-soo kim to improve his physical strength.From the 6th to the 21st,he set up a mini camp at the Gangchanghak Baseball Stadium in Seogwipo, Jeju and conducted pitching training.Trainer Jang Si-hwan, who worked as Ryu Hyun-jin's Toronto trainer since last year,jang Min-jae and kim Ki-tak of Hanwha, and LeeTae-yang of SSG trained together.
After completing Jeju training,Ryu Hyun-jin planned to return to the United States, but due to the closure of the MLB job, Toronto's spring camp plans are unclear. Ryu Hyun-jin is training in Geoje and is expected to make plans for the future depending on the MLB workplace closure situation.