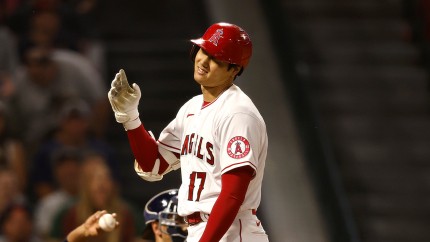 Last year, Major League Baseball (MLB) American League's unanimous MVP Shohei Ohtani of Los Angeles Angels struck out three consecutive at-bats by returning veteran right-handed pitcher Justin Verlander of Houston Astros.
Ohtani appeared as the No. 1 designated hitter in the home game against Houston at the Angel Stadium in Anaheim, California on the 10th and struck out only three hits in four at-bats.
His batting average for the season dropped to 0.077.
Verlander, who returned to the big league mound two years after surgery on his right elbow, cooked Ohtani with a ball that was 154 km per hour fast once and struck out a wasted swing.
In the 3rd inning, Verlander tied Ohtani with a slider, and in the 5th inning, he sent Ohtani back to the dugout with a 154km/h fastball that was full on his body.
Ohtani gave the referee a look of disappointment, saying it was not a ball.
In the eighth, he retreated with a shortstop grounder.
Verlander had seven strikeouts and one point in five innings, but the team's 2-0 loss made him a losing pitcher in the return game.
Angels Noah Syndergaard, who also had an elbow ligament operation, pitched 5⅓ innings without a score and won the game.
The Angels main hitter Mike Trout nailed the victory with his first home run of the season, which went over the fence in the bottom of the eighth inning, leading 1-0.