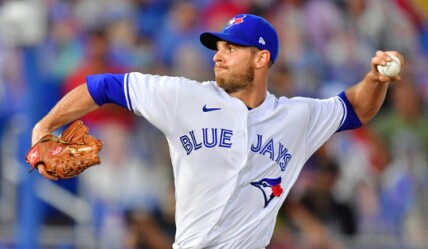 Unfortunately, the Toronto Blue Jays are expected to have a busier winter than ever, having failed to advance to the postseason.
In Toronto, there is a free agent duo named Robbie Ray, who is considered a Cy Young candidate, and Marcus Semien, who hit 45 home runs, the most in second base in a season. It is certain that Toronto will offer them a qualifying offer.
The amount of the qualifying offer this year was set at 18.4 million dollars.The club can present a qualifying offer to its free agent player, and if the player accepts it, he will receive an annual salary of $18.4 million for the next season and play at his original club.You can get the pick.However, there is a possibility that Toronto will offer a qualifying offer to another free agent along with Ray and Semien.Canadian Sportsnet reported on the 29th,Toronto has internally discussed whether to make a qualifying offer to Matsu.
Matsu,who served as Toronto's fourth starter this year, had a good performance with a 14-7 record with a 3.82 ERA. Matsu's annual salary this year is $5.25 million. If Toronto makes a qualifying offer to Matsu and Matsu accepts it, Matsu's next year's salary will more than triple.
SportsNet said,Fangraph estimates Matsu's WAR this season at 2.8 and estimated that bringing such a player to free agency would cost $22.1 million. Therefore,Toronto has a qualifying offer. He said,It can also be a good result for Toronto if Matsu refuses a qualifying offer and signs a contract with another team.
Of the 96 players who received a previous qualifying offer,only 10 accepted it.In 2018,Ryu Hyun-Jin was offered a qualifying offer worth $17.9 million from the Los Angeles Dodgers,which he accepted.Ryu Hyun-jin ranked second in the 2019 National League Cy Young Voting, showing the performance of the league's top starting pitcher, and became the driving force for signing a four-year, $80 million contract with Toronto.
Will Toronto really give Matsu a qualifying offer? If Toronto makes a qualifying offer to Matsu,what will Matsu do? It remains to be seen whether he will spend another year in Toronto for a salary of $18.4 million next year,or turn it down with a multi-year deal in mind.For Matsu,the moment of choice of a lifetime may come.