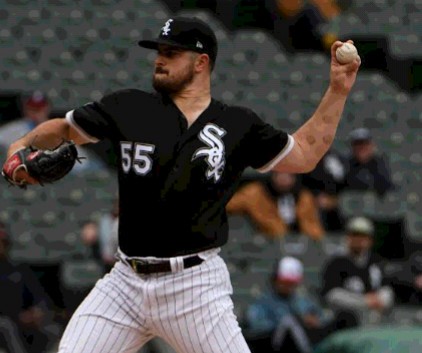 A player who was virtually kicked out of the team.A pitcher who had to compete for the 5th starting position just a month ago, a pitcher who was unable to throw 8 innings last season after receiving Tommy John Surgery.It is the Chicago White Sox's Carlos Rodon, who is the second No-Hit No Run character of the season.
In the match against the Cleveland Indians held at the guaranteed rate field on the 14th,Rodon was able to achieve the 22nd full-fledged game in the Major League's career until one in the beginning of the 9th, but with one sand dune hitting Roberto Perez's footsteps, he set a big record.He missed it and became the protagonist of the 20th No-Hit No Run in the White Sox.
Rodon, who threw 114 balls, had 9 innings, 0 hits, 0 runs, 0 walks, 1 fireball, and 7 strikeouts.Rodon, whose game was his second appearance this season, maintained an average ERA of 0.00 as he did not score for 14 innings in two games.
In addition,Rodon's pretense made him postpone the originally scheduled start for two days, giving him the support to endure cold weather near zero and set a big record.
Rodon was nominated for the White Sox for the third time in the 2014 draft, raising expectations as a top prospect. However, he couldn't take off the label of his injury every season afterwards.His average ERA until last season was 4.14. By the way, after the 2018 season, it was more than 5 points.
He chose Tommy John Surgery in May 2019, and he threw 7⅔ innings in four starts including two starts last season, recording an average ERA of 8.22, which seemed to be erased from the fans' memories.
The White Sox also gave up salary arbitration after finishing last season and released him as a free agent, but Rodon did not leave the White Sox and signed a non-tender contract for $3 million a year and aimed to recover.
And in the last spring camp, he played 3 demonstration games, threw 13⅔ innings, and predicted a resurgence with excellent pitching with 2 runs and 16 strikeouts. Eventually, after competing with Reynolds Lopez, he took the 5th starting position and is striving to score 14 consecutive innings in two matches against the record of No-Hit No Run this season.