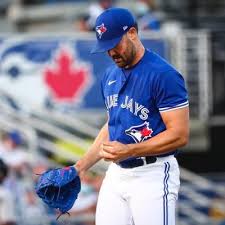 Robbie Ray of Toronto Blue Jays continues to rise.The team leader also praised the successive fighting.
Ray appeared as a starting pitcher in the 2021 MLB home game against the Oakland Athletics at the Rogers Center on the 6th.
It was impeccable pitching content. Ray played 6⅔ innings, one hit, three walks, and ten strikeouts.Ray, who had a no-hitter streak until the 5th inning, was hit by a double by Chris Davis, but did not concede a single hit until 2nd in the 7th inning. Ray, who played a leading role in the 8-0 victory, achieved 11 wins (5 losses) of the season. He made eight consecutive quality starts and lowered his ERA from 2.71 to 2.60.
MLB.com said,You must have heard it more than 20 times this season alone, but Ray dominated the game. Cy Young's candidate Ray recorded 10 strikeouts and no runs in 6⅔ innings. Marcus Simeon and Alejandro Kirk also hit home runs.Everything towards victory went smoothly.
After the game, Toronto Blue Jays manager Charlie Montoyo said in an interview,I think Ray is the best pitcher in the majors right now.Everyone feels he'll give us a chance to win when he gets on the mound.I hope Ray can hold up to the 7th inning.He does what he has to do.It's amazing.
It is no exaggeration to praise Montoyo. Ray who retrospected this year, recorded an outstanding record of 11 wins, 5 losses, 166 innings, 212 strikeouts and a 2.60 ERA in 27 games. Ray, who has been playing consistently throughout the season, is actually playing the role of an actual ace.In particular, against the Chicago White Sox on the 28th of last month,he struck out 14, breaking the Toronto record for most strikeouts in a left-handed game. Currently, Ray is second in the MLB overall strikeout division.
Recognized for his outstanding performance, Ray is being mentioned as the most promising American League Cy video candidate along with Gerrit Cole (New York Yankees). Attention is also drawn to the Cy Young Race between Ray and Cole, who are performing powerful performances.