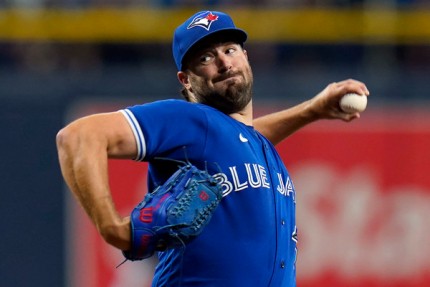 Robbie Ray, who was active as a teammate Ryu Hyun-jin, will leave the Toronto Blue Jays and change to the Seattle Mariners uniform.
On the 30th local media such as MLB.com and ESPN,a sports specialist, said,Ray has agreed to a contract with Seattle for $115 million over five years.
Ray, who did not stand out until last year, posted a 13-7 record 2.84 ERA this season, pitching innings (193⅓ innings) and strikeouts (248), taking first place in the American League.
Based on this,on the 18th, he had the best year of his life by winning the video of his relationship. At the end of the season,Ray became a free agent and, after receiving calls from several clubs, signed a contract with Seattle.
Seattle, who has won the Cy Young Award,is looking forward to Ray with Chris Flexen from the Doosan Bears and a strong one-two-punch starting lineup. Flexen recorded 14-6 this year with a 3.61 ERA and played as a starting pitcher for the Seattle Aces.
On the other hand, Toronto, who broke up with Ray, made up for his vacancy by signing José Berrios and Kevin Guzman in advance.