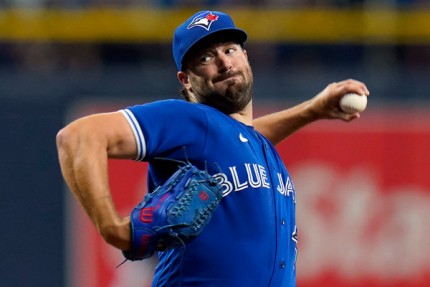 Toronto Blue Jays pitcher Hyun-jin Ryu's teammate Robbie Ray became the protagonist of the Cy Young Award, which is awarded to the best pitcher of the season.
MLB.com, the official website of the American Major League Baseball, announced on the 18th that,as a result of voting by the Baseball Writers Association of America (BBWAA), Robbie Ray in the American League (AL) and Corbin Burnes (Milwaukee Brewers) in the National League won the Cy Young Award. did.
Ray won 29 of the 30 first-place votes, beating Gerrit Cole (New York Yankees) by a wide margin to win the Cy Young Trophy.Ray started 32 games this season and played 193⅓ innings, recording a 2.84 ERA with 13 wins, 7 losses and 284 strikeouts, achieving enough results to be selected as the best pitcher.
Meanwhile, Ryu Hyun-jin did not get even a single vote. Ryu Hyun-jin recorded a 14-10 record ERA of 4.37 this year, tied for second in the most wins category following Gerrit Cole (16 wins), but his ERA has risen compared to previous years.In 2019, when he played for the Los Angeles Dodgers, he was ranked 2nd in the National League and 3rd in the American League last year when he moved to Toronto.
The National League Cy Young went to Corbin Burnes.Burnes received 12 first-place votes, just like second-placed Zelous Wheeler (Philadelphia Phillies), but earned 14 second-place votes and was selected as the winner by a total of 10 points.
Burnes,who recorded an 11-5 record 2.43 ERA this year,did not accumulate as many wins compared to Wheeler (14 wins), but after the season started, he caught 58 strikeouts without a walk, breaking the record of no walks and strikeouts last August.The dominant analysis is that he won Cy Young by making a strong impression with his record of striking out in a row against two batters.