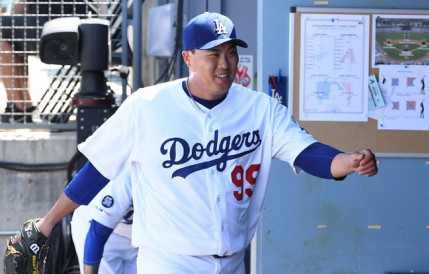 Ryu Hyun-jin of the Los Angeles Dodgers, who will meet Atlanta again. Local media in Atlanta seem to be getting ahead of their fears, recalling past nightmares that Ryu suffered.
According to report, Atlanta-based daily, said about the Dodgers' starting pitcher matchup with Atlanta.
The Dodgers and Atlanta will play their second game of the three-game series at Sun Trust Park in Atlanta, Georgia. The Dodgers' starting pitcher is Ryu Hyun-jin. Atlanta will be on the starting mound by Mike Poltinyvich.
A familiar face-off between Ryu and Poltina Newswitch is due to last year's division series. They were starting pitchers who played in the first game of the Division Series last year. At that time, the showdown was Ryu's complete victory. Ryu was the winning pitcher in seven innings with four hits, four walks and eight strikeouts.
Ryu also won a shutout against Atlanta at Dodger Stadium on May 8 with four hits, four walks and six strikeouts in nine innings. Atlanta has had many painful experiences.
That's why local media in Atlanta are worried about Ryu's upcoming game. Ryu Hyun-jin, a top priority in the Cy Young Award, has been a nightmare for Atlanta. He led the division series with no runs, striking out eight in seven innings without a walk. In May, he also won a shutout against Atlanta.
Meanwhile, Ryu is striking out against Atlanta for eight walks and 24 strikeouts in four regular season games, one win and one loss, and an earned run average of 1.98 (271⁄3 innings).