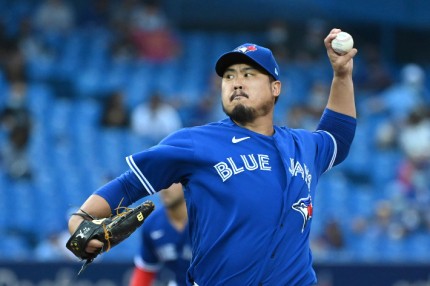 MLB.com selected the positions that need to be reinforced the most by 30 major league clubs on the 5th.Toronto evaluated that starting pitchers need to be strengthened.The media said,Toronto signed a one-year, $8 million contract with Robbie Ray last winter is like winning a gold medal.Ray played a Cy Young-class performance this year.If they don't bring Ray back to the team, they have to replace their aces.We need to get the best starting pitcher to go one-two with Jose berrios.
Lefty Steven Matz will also become a free agent.Toronto needs to fill two spots in the starting rotation,he added.Ray and Matz get free agent qualifications, and Ryu Hyun-jin,Berrios and Alek Manoah remain in the starting rotation.
The media evaluated Ray as the ace and berrios as the second starter, and in fact classified Ryu Hyun-jin as the third starter.The media explained that even on the 27th of last month,Ryu Hyun-jin,who was healthy, could be a 2nd starter or a good 3rd starter, and evaluated that he was not an ace.
After spending his first season in Toronto last year,Ryu Hyun-Jin completed the ace mission with an ERA of 2.69 in 12 games, 5-2, 67 innings and 72 strikeouts.Thanks to Ryu Hyun-jin's performance,Toronto achieved their postseason dream for the first time in four years.Moreover,Ryu Hyun-Jin finished third in the American League Cy Young.It was the grandeur of the ace that Toronto had expected.
However, after one season,his status declined.This season has been a difficult year for Ryu Hyun-jin.He posted a 4.37 ERA in 31 games with 14 wins, 10 losses, 169 innings and 143 strikeouts.He set the record for most personal losses in a single season and finished with a four-point ERA for the first time in his season as a full-time starting pitcher.
The media predicted that Toronto could sign a new contract with Ray and try to sign free agent Marcus Stroman.If the media's expectations come true, there is a possibility that Ryu will be pushed to the 3rd or 4th pick.