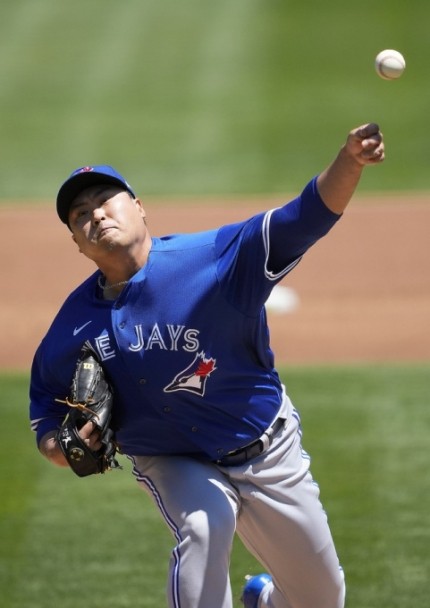 Toronto's Hyun-jin ryu started as a starting pitcher in the match against the Chicago White Sox held at Guaranteed Late Field in Chicago, Illinois, USA on the 11th and gave up 5 hits, 1 home run, 1 walk and 3 runs in 6 innings done. He recorded a quality start (throwing 3 runs or less in 6 starting innings), but could not prevent the team's 2-5 defeat.
The opponent placed nine right-handed batters to attack Hyun-jin ryu.The Chicago White Sox have a 13-4 record this season against left-handed pitchers. This strategy worked.Hyun-jin Ryu hit a double by jermin Mercedes without a runner. Afterwards, he cleared yoan Moncada, but gave up three runs on a double to Jose Abreou and a home run to Yasmani Grandal. After regaining his composure,Hyun-jin ryu continued pitching without conceding any additional runs.He was substituted 7 innings after he pitched 95 balls by 6 innings
Regarding the first struggle,Hyun-jin ryu said,I prepared for the game as usual. The pitch that hit a home run in the first inning went well into the corner.But Grandal hit it well. Rather, he was disappointed that the cutter he threw at Abreou was in the middle and he hit a double.
This is Hyun-jin ryu,who was sluggish with 7 runs in 5.2 innings against Houston on the 5th.He even mentioned balance issues at the time.Hyun-jin Ryu's control ability was not perfect in this match against the Chicago White Sox.It still feels out of balance when I throw the changeup,he said. All other pitches were fine. He continued to talk with the pitching coach, and as he continued to pay attention, he seems to have improved a little from the fourth inning."
On this day,Hyun-Jin Ryu met Riley Adams with his first battery collaboration. As it was his first time, he prepared thoroughly before the match.Hyun-jin ryu said,We talked a lot before the game.He paid a lot of attention to things like setup through many conversations. He played well for six innings. He also breathed well.
Toronto, led by Hyun-jin ryu last year, succeeded in advancing to the postseason for the first time in four years.However, we have looked to a higher place through off-season reinforcement, but the reality is not easy. As of the 11th, Toronto is in fourth place in the American League East with a record of 31 wins and 28 losses.Hyun-jin ryu said,Not only the starter and the bullpen, but also the fielders are fighting hard.If he scores a win rate of 50 or more, he thinks he's good.They are doing very well now,he said, predicting a bright future for Toronto.