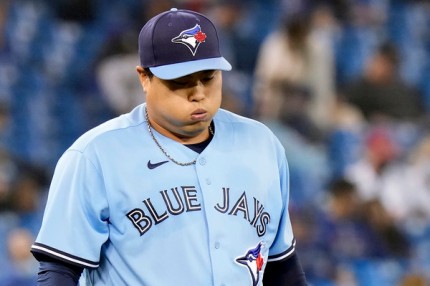 Ryu Hyun-jin of Toronto Blue Jays,who made his first start this season, was hit with a sudden battling in the 4th inning and was relegated prematurely without being able to complete the 4th inning.
Ryu Hyun-jin appeared as a starting pitcher in the home game against the Texas Rangers in the major leagues held at the Rogers Center in Toronto, Ontario, Canada on the 11th.
Until the 3rd inning, Ryu Hyun-jin skillfully managed the game.In the first inning, Ryu Hyun-jin, who gave a refreshing start to all three batters with a ground ball and a floating ball, got a solo shot in the second inning, but in the third inning, except for the lead hitter walk, he struck out two and woven a ground ball, making the inning stable finished.
He took the lead 6-1 by hitting a home run every inning up to the 3rd inning with Ryu Hyun-jin's strong pitching.Ryu Hyun-Jin,who received six runs in the third inning, however, allowed lead batting Mitch Garver to walk in the fourth inning, and then took four hits in a row.After the walk was allowed, the cutter and changeup tools, the main weapons, were shaken and hit.
Although the game did not turn over 6-4 despite consecutive runs, manager Charlie Montoyo invited Ryu Hyun-Jin to the dugout.Julian Merryweather, who followed in the mound, allowed a 6-6 tie, making Ryu Hyun-jin's own run six runs.
On this day,Ryu Hyun-Jin threw 70 pitches and recorded 5 hits (1 home run), 2 walks, 4 strikeouts and 6 runs in 3⅓ innings.His ERA soared to 16.20. Despite an early lead, Toronto lost 6-12 to the Texas fire show, and suffered their first loss of the season after two straight victories.