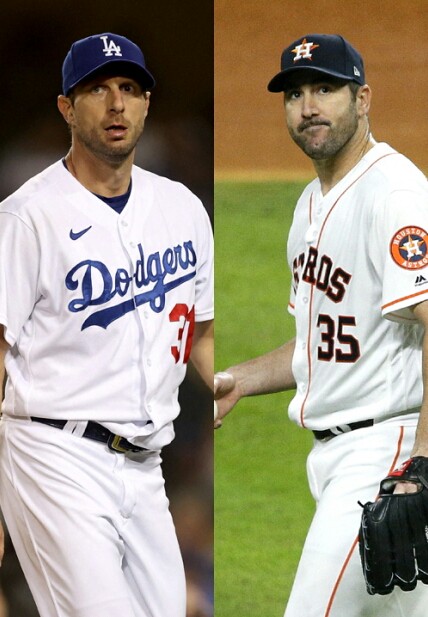 Major League Baseball's official website (MLB.com) released 17 major predictions related to the free agency market on the 7th.
The prediction of MLB.com according toreport is truly shocking.The most striking is the meeting of Max Scherzer and Justin Verlander.
MLB.com predicted that the San Francisco Giants would catch Scherzer and Verlander at the same time.San Francisco may bring Chris Bryant back, and renewing his contract with Brandon Belt is a reasonable choice.Recruiting a starting pitcher will be a top priority for President Farhan Zaidi.And given the club's tendencies, Scherzer It would be a good choice for me or Verlander.San Francisco has enough space for the starting rotation for both players,as well as the ability to pay a higher price.
San Francisco has Kevin Gausman with a 14-6 ERA of 2.81,but he's also on the free agent market.Here he didn't even run out of club options with Johnny Cueto.If Gausman leaves San Francisco,it looks like San Francisco will also need to reinforce starting pitchers in the free agent market.
MLB.com expected Gausman's destination to be Toronto.Toronto offered gausman a three-year contract last winter,but Gausman accepted a qualifying offer from San Francisco.But if San Francisco recruits veteran starters and Robbie Ray leaves Toronto, Gausman will return to Toronto.You may be interested in it.He also predicted that Toronto would miss both Ray and Marcus Semien.
According to report by MLB.com,Carlos Correa signs with Detroit Tigers,Corey Seager signs with New York Yankees, Trevor Story moves to Houston Astros, Bryant joins Texas Rangers,Semien signs with the Seattle Mariners and Freddie Freeman renews his contract with the Atlanta Braves.
Clayton Kershaw remains with the Dodgers,Chris Taylor heads to the Philadelphia Phillies,Nick Castellanos goes to the Miami Marlins,Sterling Marte signs with the Cleveland Guardians,New York Mets go for Marcus,Javier Baez,Noah Syndergaard etc.Kyle Schwarber signs with St. Louis Cardinals, Ray signs with Los Angeles Angels, Carlos Rodon signs with Chicago White Sox,Minnesota Twins brings Nelson Cruz back.