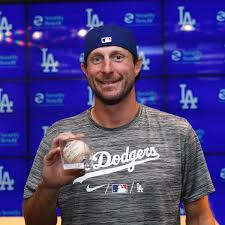 Max Scherzer of Los Angeles Dodgers is selected as one of the few players who dazzlingly survived a large contract. Considering he's a pitcher, he's an even bigger hit.
Scherzer,who was voted the league's top player, signed a seven-year, $210 million contract with Washington ahead of the 2015 season. It was a huge sum at the time, and Washington even put in a payment deferral condition to pay a later salary.However, Scherzer has been doing a great job for 7 years and has been worth more than this amount.Due to the terms of his payment deferral,it is estimated that the present value is around $191.4 million.
Such Scherzer becomes a free agent again after seven years of this season. Scherzer, who is challenging himself to win the Cy Young Award for the fourth time in his career with a brilliant record of 15 wins, 4 losses and a 2.46 ERA in 30 games this year, is showing off his strength. Even at the age of 37, he showed off his iron arms and poise that were comparable to younger players.
He's a second free agent, but he doesn't look like he's going to back down.Jim Borden, a former MLB general manager and columnist for the American sports media The Athletic,said,The Dodgers definitely want to renew their contract with Scherzer, but it won't be easy,citing three reasons.
First of all, it is predicted that Scott Boras, Scherzer's agent and MLB's Devil's Agent, will call for a high price.Boras will aim for Scherzer to break Trevor Bauer's record to become the highest-paid starting pitcher,Borden said.
Bauer signed a three-year,$102 million contract with the Dodgers ahead of the season.Divided by the annual average,it is about 34 million dollars,which varies from year to year.Bauer will receive $40 million in 2021 and $45 million next year. Instead,his salary in 2023 will be reduced to $17 million.Of course, Bauer can exercise his opt-out right at the end of the 2022 season.
Scherzer is also likely to try a similar deal like this on his three-year contract.In terms of three years, it is advantageous to manage the team payroll by reducing the contract salary in the last year of reaching forty as a club.If so, it could break Bauer's all-time record ($45 million) and realize Borden's vision of close to $50 million.
The Dodgers, on the other hand, have not decided on Bauer's next year's salary, who is on administrative leave due to sexual assault allegations.When Bauer is tied up with money, he has no money to spend.In this case, it would be better for Bauer to be disciplined, put on a restricted list, and not pay salaries.This is the second reason Borden points out, which he called hard work for the Dodgers.
Third, there was competition.The Dodgers may have to compete with a team like the San Francisco or Los Angeles Angels to get Scherzer's service, Borden said.It is already predictable that there are not one or two teams aiming for Scherzer.