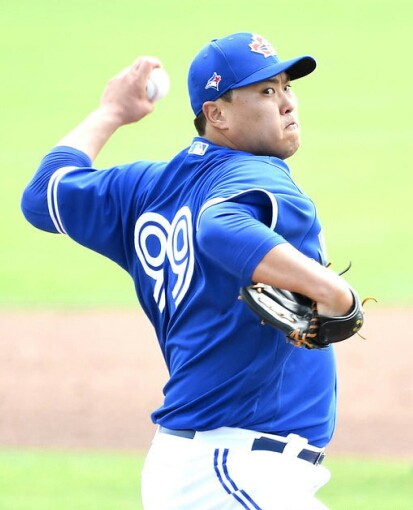 The Korean Monster Ryu Hyun-Jin of Toronto Blue Jays solve the disappointment of Robbie Ray?
Ray started the home game against the Chicago White Sox at the Rogers Center in Toronto, Canada on the 26th,and showed the power of the first starter in the second half with one run in seven innings.In particular, he struck out 14 times, setting a new record for the most left-handed games in the club's history.
Ray gave his best pitch, but failed to add more wins. He passed the mound to Team Maiza in the 8th inning, which he faced 1-1, and postponed his 10th win to the next opportunity.
Ryu Hyun-jin goes on the mound to relieve Ray's disappointment.The stage will be a home game against the White Sox on the 27th.
Ryu Hyun-jin has been on the mound 24 times this season and has an ERA of 3.54 with 12 wins and 6 losses.
For Ryu Hyun-jin,who is currently tied for first place with Chris Bassett (Auckland Athletics) and Gerrit Cole (New York Yankees), this game is a golden opportunity for a solo lead.
Bassett was out of power due to an injury hit in the face by an assault bat, and Cole does not have a start schedule until Ryu Hyun-Jin starts.
Last June 11, in the away game against the White Sox, he played 6 innings and 3 runs (5 hits (1 home run), 1 walk and 3 strikeouts), but became a losing pitcher because the lineup was silent.
At that time, Yasmani Grandal and rookie yermin mercedes,who gave a blow to Ryu Hyun-jin, are not on the big league roster. It seems to be a good opportunity for Ryu Hyun-jin as well.