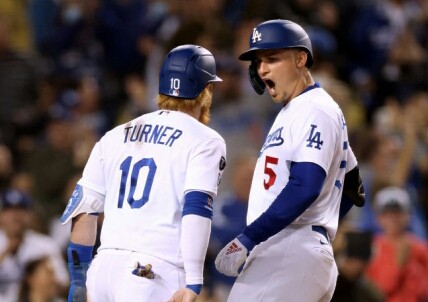 San Diego Padres Kim Ha-seong played an active part in multi-hit including a home run. However, the Los Angeles Dodgers won the game and continued the race for the National League West title.
Kim Ha-seong started as the 6th shortstop in the away game against the Dodgers held at Dodger Stadium in Los Angeles, California on the 1st and scored two hits in four at-bats, one home run, one RBI and one run.
The Dodgers won 8-3 and went on a four-game winning streak, two games behind San Francisco. San Diego is on a six-game losing streak.
The Dodgers hit the San Diego mound with five home runs.Corey Seager led the team to victory with 3 hits in 4 at-bats, 2 homers, 2 RBIs and 2 runs. Mookie Betts, Justin Turner, A.J. Pollock also hit a home run.
Starting pitcher Tony Gonsolin was sluggish with 4 hits (2 homers), 2 walks, 5 strikeouts and 3 runs in 4⅔ innings, but Bruce the Graterol (⅓ innings) - Corey Kneble (⅓ innings) - Joe Kelly (⅔ innings) - Evan Phillips ( 2 innings), the bullpen kept the team winning without conceding.
The Dodgers dominated the lead with back-to-back home runs from Mookie Betts and Corey Seager in the bottom of the first inning.
San Diego made up for one point in the second inning by hitting a solo home run by kim Ha-Seong.
The Dodgers, Justin Turner and A.J. Pollock hit a back-to-back home run and ran away 4-1.
San Diego is back again. In the 5th inning, lead hitter Webster Rivas walked and Tatis Jr. hit a two-run homer.
The Dodgers allowed a one-point pursuit, and in the bottom of the sixth inning, lead hitter Trey Turner got on base with a hit, and Max Muncy got a chance to get one to second. Will Smith and Justin Turner hit one RBI in a row, widening the score to 7-3 again. In the 7th inning, Seager hit a solo home run and ran one more point.