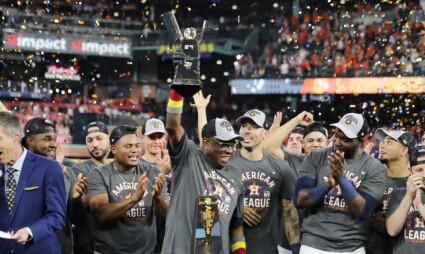 Houston Astros senior manager Dusty Baker,who defeated the Boston Red Sox in the American League Championship Series and confirmed the World Series in four years, has led the San Francisco Giants to the World Series in 2002.After 19 years, he is back on the World Series stage.
As a player, coach, and manager, Baker, who became the sixth manager of the World Series this year, will also go down in major league history as the ninth manager to have won both major league championships. It is a very good scenario to leave the pitch after winning the World Series, which he missed as a coach,as the finale of his baseball life, but Baker has no intention of retiring even if Houston wins this World Series, The Athletics said on the 24th.Baker,who signed a one-year contract with Houston ahead of the 2020 season, is leading the team as a club option this season. So after the World Series, Baker will have to negotiate again with Houston.
It depends on how I feel. It depends on how the team feels about me,Baker said after last season's extension.No one knows what will happen in life or how it will change.Baker, who has since implemented options for the team and has continued to manage, has recently said that he would like to continue in charge of the team in 2022 and beyond.
In response,The Athletics analyzed that Baker is likely to want to achieve 2000 wins in his coaching career. Baker, who has a record of 2039 appearances in 19 years as a player, has managed 3,722 regular season games and 78 postseason games as a manager. He has only 13 wins left as a manager until he achieves 2000 wins.There are 11 managers in the major leagues who have won more than 2,000 wins.
Baker wants it himself, but aside from that, it's the owner who signed him from the team that he's most likely to keep the Houston dugout next season. Baker led the Washington Nationals to two consecutive division championships, but was fired after the 2017 season due to a weak jinx in the big game and was running a winery in Napa, California. Then, in 2019, when Houston's autograph scandal broke out and manager AJ Hinch was suspended from business for a year, Houston's owner, Jim Crane, brought in the veteran Baker himself as a workaround.It is completely different from the current trend in which the general manager appoints a manager he likes and receives payment from the owner.Crane's owners had hired Baker first and then hired James Click as their new general manager.
Last season, manager Baker's first year in charge of Houston, he led the team to the Championship Series, although he did not reach a win rate of 50% in the regular league, and this season,the second he has already secured a ticket to the World Series.It's no wonder he'll continue to coach next season.Crane owner said,After the season is over,we have to talk.