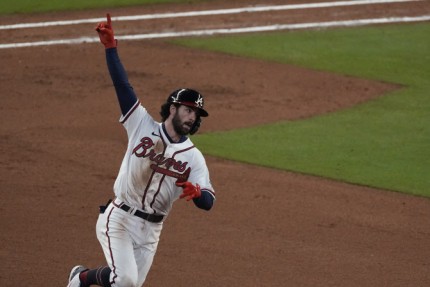 The Atlanta Braves of MLB have only one win left in their first World Series win in 26 years (WS, 4 out of 7).
The National League champions Atlanta defeated American League champion Houston 3-2 in Game 4 of the world series held at Truist Park, Atlanta, Georgia on the 31st.In the bottom of the 7th inning, who were behind 1-2, Dansby Swanson and Jorge Soler's streak hit home runs turned the game around and achieved a dramatic come-back victory.
Atlanta, who leads the series with 3 wins and 1 loss, will achieve the World series championship for the first time in 26 years since 1995 by adding one win in the remaining 5-7 games. got in a hurry It is a difficult situation to win all the remaining 5, 6, and 7 games.
In the beginning, the Houston side prevailed.Houston led the game as veteran starter zack Greinke closed four innings with four hits and no runs. Greinke, who won 219 victories in 18 years in the major leagues, was in a slump at the end of the season and was humiliated from the starting rotation.He started in Game 4 of the NLCS against the Boston Red Sox, but was sacked after 1⅓ innings. But on this day, he made a name for himself.He continued to send out runners and run into a crisis, but he saved the runs with magnanimity.
Houston, with Greinke's hot throw on his back, took the lead with Carlos Correa's infield ground ball in the first half of the first round.In the beginning of the fourth inning, Jose Altuve's mid-month solo homer added one more to lead him to 2-0.
Atlanta, who struggled with a goalless score until the fifth inning, counterattacked from the end of the sixth inning.After one shot against left-hander Brooks Rayleigh, who played for the Lotte Giants in Korean professional baseball, Eddie Rosario got a double and Freddie Freeman walked to get first and second chances.
Next hitter Ozzy Alvis struck out a wasted swing by Phil Maton, a Houston relief pitcher who followed up.However, Austin Reilly took a right-handed hit from the left in the two-game series, first and second base, and made up for one point.
In the end, Atlanta turned the game upside down dramatically in the bottom of the 7th. After Swanson tied the score 2-2 with a dominant solo home run,pinch hitter Soler scored a home run in consecutive batters and succeeded in the comeback.In defense in the 8th inning, the team's morale was further boosted by a lake rain that left fielder Rosario caught Altuve's home run batted ball as he bumped into the fence.
Atlanta finished by one point in the ninth, with close pitcher Will Smith taking the inning three-way.