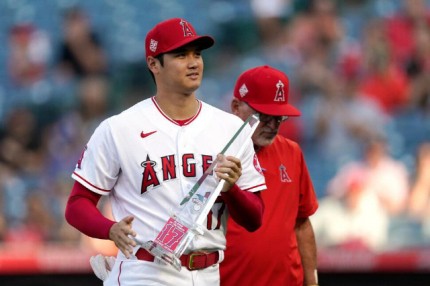 Shohei Ohtani received 30 first-place votes in the Major League American League MVP vote announced by the Baseball Writers Association of America (BBWAA) on the 19th. It is a unanimous award.

It is the 11th time in the history of the American League that the MVP was unanimously born.This is the path that legends such as Ken Griffey Jr. in 1997 and Mike Trout in 2014 followed.
He is the second Japanese major leaguer in history after Ichiro Suzuki in 2001.
This season,Ohtani achieved the best results by playing both two-and-a-half. Ohtani threw 130⅓ innings as a pitcher, leaving a record of 9 wins, 2 losses, 156 strikeouts and a 3.18 ERA as a pitcher, and a hitter with 25 percent, 7 ri, 46 home runs, 100 RBIs, 103 points, and 26 stolen bases.For the first time in the major leagues,100 innings and 100 strikeouts and 100 hits. With 100 RBI and 100 points,he achieved a triple-digit record in five two-and-a-half categories.
The high school teacher applauded Ohtani's MVP news. He congratulated him as well, but he was only thankful for how well he had grown.
According to report said,We blessed Ohtani's high school teacher,Ichiro Sasaki,Hanamaki Higashi High School coach.
Major League MVP is such a huge award, I never imagined it,Sasaki said.
It reminded me of Ohtani's sincere high school days.Director Sasaki said,During high school,Ohtani said that he would become a pioneer in both fighting and other jobs.Also,he was not neglecting his studies,so he scored an average of 85 or higher in each subject.Also, he was highly evaluated for his personality, such as picking up trash.
Director Sasaki also said,I have changed the nonsensical thing of working together with other people into common sense. He continued,Ohtani is still in the middle of his journey,he said,expecting infinite growth.