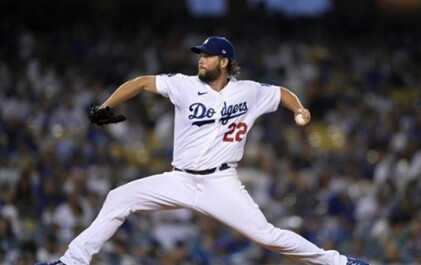 Clayton Kershaw of Los Angeles Dodgers,who washed off an elbow injury, announced the return of the ace.
Kershaw appeared as a starting pitcher in the 2021 Major League Baseball game against the Arizona Diamondbacks at Dodger Stadium on the 14th.
Kershaw made his first comeback in 71 days after starting against the Washington Nationals on July 4th.He conceded a score in the first inning,but kept the remaining three innings clean and came down the mound after facing a hitter in the fifth.Kershaw's record was 4⅓ innings, 4 hits, 1 walk, 5 strikeouts and 1 run. He lowered his ERA for the season from 3.39 to 3.33.Kershaw pitched 50 pitches and averaged 90.6 mph (145.8 km/h) fastball and 89.2 mph (143.6 km/h).He didn't have normal fastball speed, but he annoyed hitters with his skillful game management and precise pitching.
After the game, Kershaw said in an interview,There aren't many things in this world that make me feel better than throwing the ball and winning.It's a special thing and I miss it.I'm so happy to be back.
Catcher Austin Barnes, who worked with Kershaw on battery, welcomed the return, saying,I'm glad Kershaw is back on the mound. He's our leader. It feels good to be able to compete again.
In an interview with Los Angeles Dodgers manager Dave Roberts before the game, Kershaw was able to confirm Kershaw's desire to win and return.Kershaw felt miserable.He didn't compete and he hated not being able to play.But he supported his teammates as a great team member,Roberts said.
The Dodgers hit the final puzzle of the starting rotation.With Kershaw's return, he built a strong starting lineup with Max Scherzer, Walker Buehler, Julio Urias, and Tony Gonsolin. David Price, who was in charge of the replacement starter, moved to the bullpen, and Danny Duffy, who recently complained of elbow pain, is likely to be out of the season. Trevor Bauer, who lost his presence, ended the season prematurely with an extended administrative leave.