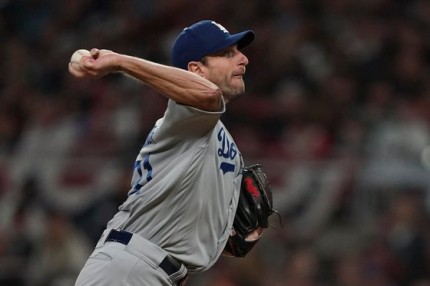 Major League Baseball (MLB) official website MLB.com announced on the 23rd that Max Scherzer will not start in Game 6 of the National League Championship Series (NLCS, best-of-four system).The Dodgers, who have been pushed to the brink with a series record of 2–3, are more likely to play Game 6 as a bullpen day. According to report,MLB.com also predicted that all of the bullpen resources, including Tony Gonsolin, Evan Phillips, and David Price, would be mobilized for Game 6.

Scherzer's absence is somewhat expected.Scherzer started the second game of the NLCS on the 18th and went down the mound after 79 pitches.He complained of dead cancer,a symptom of reduced restraint due to fatigue at the time, but the pain did not completely disappear even in the process of preparing for the 6th game.The Dodgers don't have enough starters for Game 6 because Walker Buehler, who started Game 3 of the series, didn't get enough rest.
Meanwhile, the Atlanta Braves, with only one win left in the World Series, early confirmed Ian Anderson as the starting pitcher for Game 6.