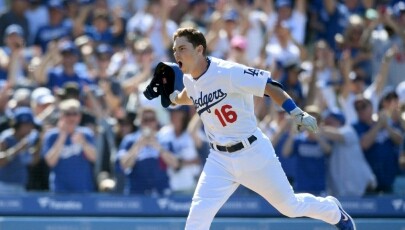 The Dodgers defeated the San Francisco Giants in the 2021 Major League Baseball game at Dodger Stadium in Los Angeles, California on the 21st with Will Smith's pinch run three-run victory in the ninth inning.

The Dodgers lost their second straight game and were one game behind San Francisco, the leader of the National League.
It wasn't an easy game for the Dodgers. Before the game, Mookie Betts was dropped from the starting lineup due to a sore hip.Justin Turner was replaced by Matt Beaty ahead of defense in the sixth inning after complaining of pain in his knee with the ball hit him in the fourth inning.
The Dodgers took the lead with Max Muncy's one-run hit in the first inning, but Alex Dickerson of San Francisco turned the game around with a two-run homer in the second. In the third inning, Lamonte Wade hit a one-run homer.
San Francisco ran three more runs in the fifth inning, with Estrada and Mike Yastrzemski's two home runs leading the way.In the bottom of the fifth inning, the Dodgers also followed Chris Taylor's one-run homer by one more.
The Dodgers followed up by one point in the bottom of the sixth inning with Austin Barnes RBI double and Taylor's two-run homer.Then, at the end of the ninth inning, with two walks, he made it to first and second base safely, and won with Will Smith's pinch run three-run.