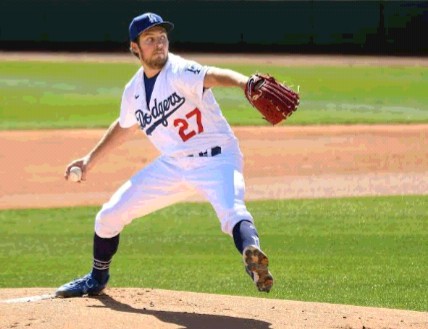 Trevor Bauer,who signed a three-year contract for an off season of $102 million, made his LA Dodgers debut against the Colorado Rockies at Coors Field,Pitchers Grave.The Dodgers, who missed the opening game due to a misfire and a mistake in base running the day before, took the initiative from the beginning with Bauer's good fight.

Up to the 6th inning, he caught 9 strikeouts and held a no-hit march. "Tornado" Hideo nomo is the only pitcher who wrote a no-hit no run in Coors Field. One of the reasons I appreciate the old mother is that she wrote the no-hits in the pitchers' graves. On September 17, 1996, the old mother of the Los Angeles Dodgers walked 4 and took 8 strikeouts and put the other line in Colorado to sleep as a no hitter. The score is 9-0. Nomo once again made a no-hit 3-0 against the Baltimore Orioles at Camden Yard during the Boston Red Sox on April 4, 2001. He is also the top recorder of both league no hits, with only five players in MLB history. Nomo, who ranked first in strikeouts twice, has an average ERA of 123 wins and 109 losses in total, 4.24, and is the most win-winning Japanese pitcher.
Bauer's no-hit was ended by Trevor Story, a leading hitter at the end of the 7th inning. Bauer gave Story a two-run home run to Charlie Brackman after a left-handed hit, followed by a walk on CJ Cron, and allowed two more stores to Ryan McMahon. Bauer, who repeatedly struggled while tense toward the No-Hit, collapsed in two homers with No-Hit Musan in the 7th. It felt like his tight rubber band broke in one moment. Bauer reported his Dodgers debut as a winning pitcher with 3 hits, 2 walks,10 strikeouts and 4 runs in 6.1 innings.
Former Los Angeles Dodgers Hideo Nomo is the only major league pitcher to write a no-hit no run in Coorsfield.It was a game that did not achieve a record quality start (6 innings or more and 3 runs or less),but it seemed to be foreshadowing the good performance of Cy Young's pitcher this season.It was a counterfight that gave the Dodgers fans a strong first impression. Among the pitchers of the opening series, he threw the longest inning after 7 innings of Baltimore Orioles John means.
Meanwhile, David Price, who was traded in Boston with Mookie betts in February of last year, made his Dodgers debut with a bullpen. However,as soon as he started, he allowed four consecutive hits, including a home run, showing ominous signs. His top four-seam redemption stayed at 146 km (91 miles), leaving no hitter intimidation. Price ended the season by declaring an opt-out in the coronavirus situation last year, and it was his Dodgers first match that day. The Dodgers struck 16 hits in the long and short range, winning 11-6, and swearing for a 5-8 defeat in the opening game.