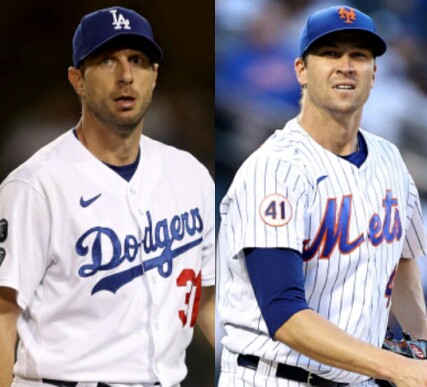 The biggest topic of the 2021-2022 MLB offseason is still Max Scherzer's move to the New York Mets.Before the lockout, the Mets awarded Scherzer a three-year, $130 million contract with the strong financial power of billionaire owner Steve Cohen.Annual average of 43.33 million dollars.He opened up the era of $40 million for the first time in history, and certainly built up his pride.The Mets Mound has been led by Jacob deGrom. This is where Scherzer comes into play. From next year, for at least three years, they will form a Dream Cy Young One-Two Punch.Scherzer became Cy Young Winner in 2013 and 2016-2017, and DeGrom in 2018-2019.The total of the two awards alone is a whopping 5 times.

The Mets and DeGrom were recently selected by CBS Sports to take the top spot in the one-two punch of 30 major league teams for the 2022 season.He is also the main character to break the dark period of the New York Mets,which failed to advance to the postseason for five consecutive years since 2016.
ESPN ranked the Mets first in the offseason rankings of 30 clubs before the lockout on the 15th.The storm signing of three free agents, Mark canha, Eduardo Escobar and Starling Marte, was also highly praised.He added,I created the Hall of Fame One-Two Punch.The Mets chance of winning the pennant race has increased by more than 3.5 times.
In fact,as a result of ESPN running 10,000 simulations for the 2022 season,the Mets won 472 times on November 5 before Scherzer's signing, but 1306 on December 3 after Scherzer's signing.The odds of winning increased by a whopping 3.77 times.
The Mets were rated A by ESPN. After the lockout, adding mound depth is a challenge.ESPN said,The starting lineup for next year has a lot of injuries.We need to add depth to the pitch.We need to figure out what role Robinson Cano,will play in 2022 when he returns from suspension,ESPN said,cano missed the season on two counts of taking banned substances.