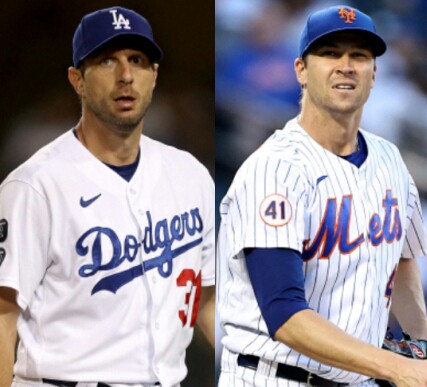 American CBS Sports selected the one-two punch rankings of each club before the major leagues were suspended due to lockout on the 13th.The Mets with Max Scherzer took the first place. Scherzer played for the Washington Nationals and the Los Angeles Dodgers this year with a 15-4 record with a 2.46 ERA. Scherzer's value rose sharply ahead of the free agent and the Mets signed a three-year, $130 million contract on the 30th of last month.The Mets gave Scherzer $43.33 million an average of more than $40 million a year, as the first in the major leagues.
With Scherzer, the Mets have the strongest one-two punch of all time with Jacob deGrom.The number of victories between Scherzer and DeGrom alone is a whopping 267 wins. CBS Sports also rated Scherzer and DeGrom's one-two punch the most highly.
CBS Sports said,DeGrom made only 15 starts this year, and Scherzer is 37. However, DeGrom posted 146 strikeouts, 11 walks and an ERA of 1.08 WHIP 0.55 while pitching 92 innings last year. Scherzer had an ERA of 1.98 WHIP 0.86 with the Dodgers.It's not certain,but Scherzer-DeGrom is the best starting one-two punch in the 2022 season.
Ryu Hyun-jin's Toronto Blue Jays were ranked 6th in CBS Sports ranking. However, Ryu Hyun-jin's name could not be found.His poor performance in the second half of last year seems to have had a major impact.The media put Toronto in 6th place based on one-two punches leading to Jose berrios and Kevin Gausman.
The Blue Jays are still here after losing their Cy Young Award. Jose berrios is a proven All-Star heading to 28. Kevin Gausman believes he will continue his appearance with the San Francisco Giants, and Toronto ranks high.put it on, he evaluated.
Meanwhile, according to the media, Brandon Woodruff-Corbin Burnes (Milwaukee Brewers) in second place, Walker Buehler-Julio Yurias (LA Dodgers) in third place, Lance Lynn-Lucas Giolito (Chicago White Sox) in fourth place, and Nathan eovaldi in fifth place.Chris Sale (Boston Red Sox), 6th Jose Berrios-Kevin Gausman (Toronto Blue Jays), 7th Jack Wheeler-Aaron Nola (Philadelphia Phillies), 8th Gerrit Cole- Luis Severino (New York Yankees), 8th; Joe Musgrove-Darvish Yu (San Diego Padres) in 9th and Sandy Alcantara-Trevor Rogers (Miami Marlins) in 10th were selected.