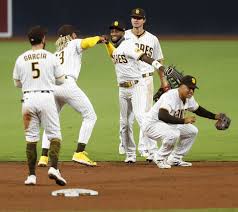 San Diego won 8-3 against the Miami Marlins in the 2021 Major League held at Petco Park in San Diego,California on the 10th.San Diego had a three-game winning streak with a 65-49 win rate of 0.570.The gap between the 2nd placed Los Angeles Dodgers in the National League West and the San Francisco Giants was 7 games.

San Diego: Tommy Pham (left fielder), Adam Fraser (2nd base), Manny Machado (3rd base), Jake Cronenworth (shortstop), Eric Hosmer (1st base), Wil Myers (right field), Trent Grisham (center)- The lineup consisted of Victor caratini (Catcher) and Joe Musgrove (Pitcher).
In the second inning, San Diego conceded the lead. Lewis Brinson hit an infield hit in front of third baseman. Bryan de la Cruz allowed a left-handed hit at 2-2 on first base, and Magneuris Sierra allowed a 1-run left-back on 2-2, 1st and 3rd.
With a 0-1 lead, San Diego slowly turned the game around.In the second inning, Hosmer hit a solo home run by Woo Jung when there were no runners. Hosmer's 10th home run of the season.In the bottom of the third inning,Pham got a walk and got to base,and Fraser's left-handed hit and Machado's one-run back just in time in the first and second bases in the first and second base took a 2-1 lead.
In the bottom of the 4th inning, San Diego took 1 company 1 and 2 base opportunities with Hosmer and Grisham walks.caratini widened the score with a one-run right-handed hit, and pitcher Musgrove struck a sacrifice fly from right fielder at first and third base, leading 4-1.
San Diego sweated in the pursuit of Miami in the 8th inning. In the 8th inning, San Diego relief pitcher Emilio Pagan got a left-handed hit by Isan Diaz when there were no two-run runners, and Louis Brinson allowed a two-run homer to the left on two-to-one first base.
As if surprised by the one-point pursuit, San Diego fled again. In the bottom of the 8th inning, Machado hit a double from right field, and Cronenworth rolled a ground ball on second base to get a one-third chance. Hosmer then hit a one-run left-handed hit.1 company 1, 2 base with an infield hit in front of Myers third baseman.Grisham hit a triple on a two-run.In the following first and third base, caratini blew a sacrifice fly from left field and ran away by 5 points, putting the key to the victory.