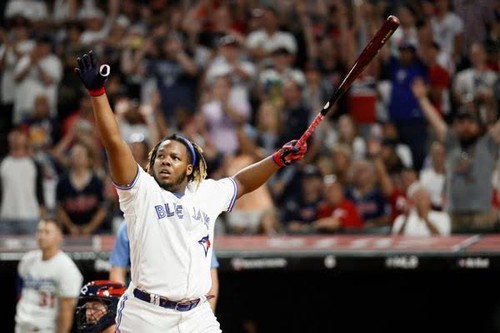 Looking at the lineup of the Major League Baseball (MLB) Toronto Blue Jays these days, it seems that they are looking at the game lineup cards of the 1990s. This is because there are many names of legends that any Major League fans remember at the time,such as Vladimir Guerrero,dante bichette and Craig biggio.
Of course, Vladimir Guerrero, Craig biggio, and Dante bichette,have not returned to Major League Baseball at the age of 40 to 50. Their sons are following their father's footsteps on the Major League stage. Shortstop Bo bichette,second baseman cevan biggio, and third baseman Vladmir Guerrero, all came to the big league stage this year, while dominating Toronto's infield.
In a game against the New York Yankees, bichette and biggio started as Toronto's first and second hitters and Guerrero as cleanup hitters. It's not special news that sons of former Major League stars are playing in the big leagues after generations, but it's rare for them to be on a team like this at the same time.
This may not be the end. On Toronto's single-A team, Roger Clemens' son kacy Clemens plays first base and is now rehabbing after undergoing Tony John surgery, but Mark Ritter Jr., son of Mark ritter, also belongs to the Toronto Minor League system. It seems as if Toronto intentionally found the sons of former big league stars at the team level.
And the start of the Big Leaguer II "Baby Tiger" trio, which now adorns the Toronto lineup, foreshadows that the future is quite bright even if it's dark now. After making his big league debut amid huge attention this year, Guerrero Jr., who was ranked No. 1 overall in the Major League's rankings, had a phenomenal super performance in the All-Star home run derby last month, demonstrating his enormous potential. Guerrero Jr. is batting .274 with 13 home runs and 49 RBIs in 86 games so far.
Biggio, who is the oldest among the three players to go through college, was ranked the lowest among the three hopefuls, but has shown rapid growth, with his sudden rise last year and entering the big league this year. He is fast becoming a big leaguer star who connects his father's generation with his batting average of 0.211 and has already hit 10 home runs in 61 games.
Bichette, the last of them to make his big league debut, is literally creating a huge sensation in the Major League right now. He hit his ninth double of the season and his fourth home run against the Yankees giving up a fierce start of 0.408. In particular, he has played in a total of 11 games in the Major League until this day, and he has made history by hitting two-base hits in every nine games, becoming the first player in Major League history to hit two-base hits in nine consecutive games.
He made his big league debut on June 30 and has already set a new Major League Baseball record after only 10 days of career in the big league career. Not only did he hit a double in nine consecutive games, but he also set another record for setting a new Major League record in the shortest amount of time.
Vizio is not the only young players who play in the Major League after his father. Fernando Tatis Jr., son of Fernando Tatis, who will never be forgotten by Korean fans for hitting two grand slam runs in an inning to Park Chan-ho, is off to a tremendous start after making his big league debut this year, batting .325 with 21 home runs and 49 RBIs in 78 games for the San Diego Padres.
In addition, Adalberto Mondesi,son of Raul Mondesi, who was known as Park's helper unlike the Tatis, is also in the Major League with 31 steals, along with a .266 batting average, seven homers and 52 RBIs this year.
Meanwhile, although he is not a player who debuted this year and his father was not a relatively famous star like them, the 24-year-old Cody Bellinger of the Los Angeles Dodgers is trying to become the National League MVP with 37 home runs, 88 RBIs and a .321 batting average this year. Belinger's father, Clay Bellinger, played four seasons in the big leagues and batted just 193 overall, but was a New York Yankees player who also won two World Series championships in the 1999-2000 season.