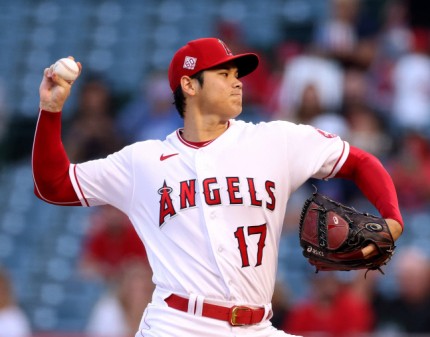 Los Angeles Angels manager Joe Maddon said at the end of the regular season,Ohtani is the MVP. It's like a position player, but if you add his performance as a pitcher, no one can beat him.It was the greatest season in MLB history.

The BBWAA announced the three MVP finalists for both leagues on the 9th.Of course, Ohtani was included.He was nominated for the American League along with Toronto Blue Jays Vladimir Guerrero Jr. and Marcus Simien.Without Ohtani, Guerrero would have been a strong candidate for MVP. In 161 games this year, Guerrero posted a batting average of 30-1,48 homers,111 RBIs,123 runs, an on-base percentage of 0.401,a slugging percentage of 0.601,and an OPS of 1.002. No. 1 in runs, home runs, on-base percentage, slugging percentage, and OPS American League.That's 5 crowns. It's just unfortunate that you can't become an MVP even after you've had an MVP season.
Ohtani does not have a personal title.His batting average of 25.75, 46 homers,100 RBIs,103 runs, and an OPS of 0.965 are all lower than Guerrero's.However, he pitched 9-2,an ERA of 3.18 and 156 strikeouts.Based on the Baseball Reference,Ohtani has a WAR of 9.0, leading both leagues.He averaged 4.9 as a batter and 4.1 as a pitcher.Guerrero scored 6.8 as a batter, finishing fourth overall.Houston Astros Carlos Correa is in second place with 7.3, and Simien is third with 7.2. As Maddon said,Ohtani is a class that no one can better.
Under these circumstances,the only point to watch is whether Ohtani unanimously becomes the MVP. 30 reporters from BBWAA participate in the MVP voting.Each reporter selects 10 players and ranks them from 1st to 10th, with 14 points awarded for 1st place and 9 to 1 points for 2nd to 10th place votes, respectively.If all 30 people receive first place votes,they get 420 points and are unanimously elected.Voting took place immediately after the end of the regular season, and the results have already been announced.
I can't help but wonder whether the 30 first place votes all went to Ohtani,or if Guerrero also went to the first place. The all-time unanimous MVP is 18.The most recent unanimous MVP was the 2015 National League Washington Nationals Bryce Harper (now the Philadelphia Phillies).
Ohtani previously won six awards, including MLB Players Choice Outstanding Player, Baseball American Player of the Year, Commissioner Achievement Award,and Silver Slugger. The MVPs of both leagues will be announced on the 19th at 8 am on the MLB Network.