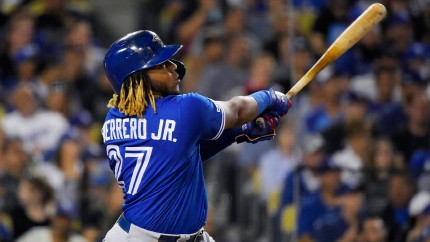 According to Sports specialized media Bleacherport published an interesting corner on the 9th.Last year, the 25 most powerful hitters were selected and ranked.The big guns of each team made it to the top ranks.
Looking at the 1st, 2nd, and 3rd places among them, it is worth nodding your head.Toronto Blue Jays Vladimir Guerrero Jr., Los Angeles Angels Shohei Ohtani and Kansas City Royal City Salvador Perez were voted the most powerful hitters last season.
Bleacherport quantified four items, such as average batted ball speed,batted ball rate of 90 mph or more,expected slugging percentage, and number of home runs, calculated as points, and ranked by the total score.Guerrero scored 257.4 points, Ohtani 254.2 points, and Perez 253.5 points.In last year's home run ranking, Guerrero and Perez tied for first place by drawing 48 arches side by side, while Ohtani was ranked third with 46 home runs.This proves that the first and third places in home runs undoubtedly hit with a lot of power.
Because of this, the home run competition is expected to develop into a three-player fight again this season.In this year's expected results calculated by Fan Graphs, the three players are expected to shoot around 40 home runs. According to FanGraphs prediction program ZiPS, Guerrero has a batting average of 0.303, 43 homers,112 RBIs, a slugging percentage of 0.585, and a WAR of 5.9 this season.Although the slugging index is lower than last year (48 home runs, slugging rate 601), considering the passive outlook of ZiPS, it is expected that he will be able to show off his slugging power this year as well.
Ohtani is expected to post a batting average of 0.274, 38 homers, 101 RBIs, a slugging percentage of 0.563, and a WAR of 3.9. Ohtani also fell short of last year's slugging index (46 home runs, slugging percentage 0.592), but it is expected that he will be able to demonstrate his slugging power without change.
ZiPS has not yet predicted the Kansas City Royals' performance this year, so the expected number of Perez is unknown, but the expected results according to the streamer were 0.260 batting average, 37 home runs, 102 RBIs, 0.504 slugging percentage, and 2.6 WAR. Ultimately, it is expected that the home run competition between the three players will intensify this season as well.
According to ZiPS projected number of home runs this year, Guerrero ranked first in the American League, Houston Astros Jordan Alvarez ranked second with 39, and Ohtani and New York Yankees Joey Gallo tied for third with 38. In the National League, San Diego Padres Fernando Tatis Jr. took first place with 44, St. Louis Cardinals Tyler O'Neill with 35, and Cincinnati Reds Eugenio Suarez with 34 are third.
In the case of Ohtani, as a pitcher, he was predicted to have 6 wins and 4 losses, an ERA of 3.63, 132 strikeouts, and a WAR of 2.4. The total WAR of the two-shots is 6.3. That's a number that can beat Guerrero, who raises 5.9 with just hitting. After all, Guerrero could be knocked out of the American League MVP this year.
Guerrero led the team in batting average, home runs and RBI until the second half of last season, increasing the chances of achieving the triple crown, but ultimately failed. However, even if he directs a triple crown this year, if Ohtani's batting is as hot as last season, the MVP is highly likely to ignore Guerrero.