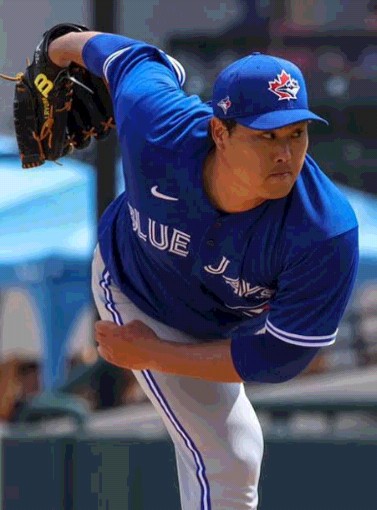 Toronto Blue Jays director Charlie Montoyo praised Ace for his artistic pitching.Hyun-jin ryu started a match against the New York Yankees in the '2021 Major League' held at Dunedin TD Ball Park in Florida, USA on the 13th and made a 7- 3 led to victory. It was his first victory this season and the moment he achieved his personal career of 60 in the major leagues.
Director Montoyo responds that whenever he sees Hyun-jin ryu, he is surprised.In a video interview with the reporter after the game, Hyun-jin ryu kept throwing the ball across the strike zone, and with all his pitches,he broke the balance of the batters. We on the bench could not predict which ball he would throw next. The changeup on the body went outward.He was really great, he stressed.
Toronto has already penetrated deep into Ace. Coach Montoyo and other Toronto colleagues acknowledged Ace's presence in several interviews during the two seasons with Hyun-jin ryu.Coach Montoyo is so obsessed with comparing hyun-jin ryu to the Yankees Ace Call.Hyun-jin ryu's $80 million for 4 years and $324 million for 9-years, the ransom is incomparable, but Hyun-jin ryu's presence in Toronto is said to be inferior to the call at all.
The reason the Yankees are with Cole is that when the team is in a row, they feel like,'Okay, today Cole will give you a chance to win. When Hyun-jin ryu is on the mound, we know that we have a chance to win the game.
Hyun-jin ryu is writing a record that is comparable to the previous aces of the club.Hyun-jin ryu recorded 6 wins and 3 losses and an average ERA of 2.51 in 15 games in the regular season after the transfer to Toronto. According to Sportsnet, Hyun-jin ryu's average ERA is ranked third in all-time starting pitchers who made their first 15 appearances for Toronto.
Roger Clemens is the first in history. Clemens was a top-notch pitcher who won the Sai video seven times, but his drug use history did not make it to the Hall of Fame. Clemens played two seasons in 1997 and 1998 in Toronto. Clemens wore a Toronto uniform and posted an ERA of 1.90 in the first 15 starts.
The second place in history was Tom Candiotti with an average ERA of 2.28.Hyun-jin ryu is in third place, Jimmy Kay (2.79) in fourth place, and Gustavo chasin (2.97) in fifth place.
Hyun-jin ryu's achievements are also related to his unpredictable pitching pattern.Hyun-jin ryu recorded 4 hits (1 home run), 1 walk, 5 strikeouts and 2 runs in the opening game with the Yankees on the 2nd, and surprised foreign media by completely sleeping on the Yankees strikeout line that met again in about 10 days.
Sportsnet Canada said Hyun-jin ryu's pitching was skilled enough to control the batting speed of the opponent's batter and interfere with the timing.He threw at almost the same weight: cutters (25), changeups (21), and fastballs (21), and the curves dropped by about a dozen, making the Yankees lineup worth speculating throughout the evening,' he explained.
Hyun-jin ryu is recording 19 innings and an average ERA of 1.89 in three games this season. If Hyun-jin ryu continues to throw unpredictable balls on the mound as it is now, he will be able to leave his footsteps as an ace that will remain in history beyond the third place in the club's history.