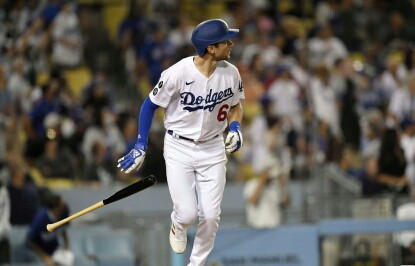 Los Angeles Dodgers infielder Trea Turner hit 20 home runs and 20 stolen bases for the first time since his debut.
Turner started as a second baseman in the 2021 Major League Baseball (MLB) home game against the Colorado Rockies at Dodger Stadium in Los Angeles, California on the 28th.
Turner, who had 19 homers and -25 stolen bases before the game, hit a solo home run against Colorado starter Kyle Freeland in the third inning, joining the club for the first time in his career, 20-20.
Turner was not listed in the 20-20 club for the second year in a row due to a lack of one home run in 2018 (19 homers - 43 stolen bases) and 2019 (19 home runs - 35 stolen bases) during his time with the Washington Nationals.
The Dodgers, who are in second place in the National League West, lost 2-4 to Colorado to become 81-48.
San Francisco (83 wins 45 losses), the leader of the Western Division who lost today, is 2.5 games.