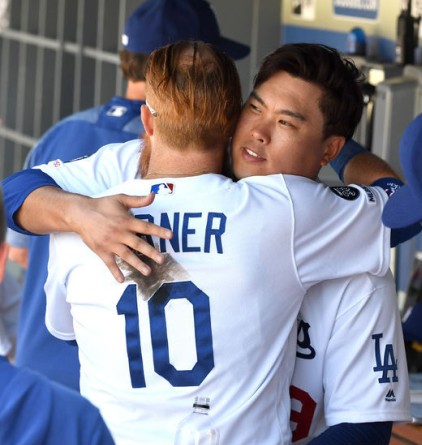 Baseball fans will probably cheer Ryu Hyun-jin of los angeles Dodgers and watch the game he started. This season, Ryu is known for his sophisticated ball control and variety of pitches to catch the innermost hitters of the Major League. He has kept 21 games under two earned runs in 22 games.
What about teammates who play defense behind Ryu when he throws? "It's fun to play defense behind him," Dodgers third baseman Justin Turner said with a smile.
Ryu Hyun-jin, who returned from a 10-day absence from the disabled list, started the game against the Arizona diamondbacks and won 12 games this season with five hits, one walk and four strikeouts in seven innings. He lowered his ERA from 1.53 to 1.45.
Turner became Ryu's winning helper with a pre-emptive two-run home run in the first inning, a solo home run in the fifth, two hits, two homers and three RBIs in four at-bats. Turner was selected as the winning pitcher along with Ryu.
In an on-site interview after the game, Turner praised Ryu for his pitching for his return. "Ryu has done everything he can.Freely thrust four pitches into the corner of the strike zone. I've done well in pitching speed and location.
I was particularly good at managing the crisis. Ryu looked like Houdini in the crisis. We overcome any crisis. Ryu grounded out to shortstop in the fifth inning with two outs and two outs and one out and with 13 bases in the sixth inning, before continuing his scoreless streak with a Byeongsal hit that led to third baseman-2 baseman. It was fantastic.Turner, who caught Wilmer Flores' front grounder in the sixth, easily drew a sickly play. "The defense is exciting behind Ryu Hyun-jin.
Ryu induced 12 infield grounders (including a sacrifice bunt) to grab 13 out-counts on the same day. He had four fly balls and four strikeouts.His strikeouts were small, but his Arizona batting average was at a loss. Anyone watching felt Ryu overwhelmed the Arizona batter.
Dodgers manager Dave Roberts said, Ryu Hyun-jin had an excellent cutter.He overwhelmed the Arizona hitters in a way other than strikeouts.He dominated the game by breaking the balance of Arizona hitters and leading them to ground out of the game.