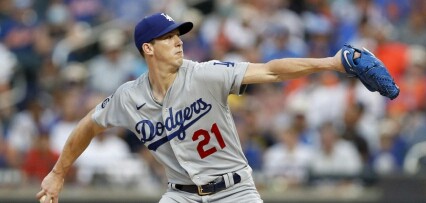 The prince of the Los Angeles Dodgers mound has been Clayton Kershaw for a long time.There have always been good pitchers such as zack Greinke,ryu hyun-jin,and Yu Darvish, but none of them could threaten Kershaw's dominance. David Price and Max Scherzer were signed in succession.
Kershaw pitched that well, and it tends to be consecrated as the years of throwing well have accumulated.However,there are signs of the transfer of the throne.First of all, Kershaw has been out of business this year due to an injury.In addition, Walker Buehler, who has been in the spotlight as the team's actual ace since last year, is recognized as a new ace and is leading the team mound.
Buehler has an outstanding record with a 13-2 ERA of 2.02, throwing 169 innings in 26 games until the 31st.He's also great with 13 wins and a 2.02 ERA, but what's even more surprising is his steady innings run.Buehler was responsible for more than 5 innings in 25 of 26 games. He throws well and throws consistently, so there is no other player like him.
While emerging as a strong candidate for the National League Cy Young right now, Buehler is aiming for both wins and ERA. 2 crown contenders Buehler's ERA currently ranks first in the majors.
The possibility of King Daseung Yang here still remains.1st place teammate Julio Urias with 15 wins. Second place is Chicago Cubs' Kyle Hendrick with 14 wins. Buehler still has at least 4-5 more starts. There is a good chance of a comeback or a joint lead for the rest of the time.
Such Buehler will start game,on the 1st at the Dodger Stadium, their home stadium,in the match against Atlanta (Spotivinau and Spotify Prime live broadcast). It's a season 14 challenge. The Dodgers are second in the National League West with a record of 83–49 until the 31st.The difference between the world leader San Francisco is 1.5 games. As he is risking his life to overtake the lead,they must win any match that Buehler plays.
Atlanta is a tough team. Ronald Acuña Jr.'s out-of-season injury suffered a fatal injury. With a record of 70 wins and 60 losses, they lead the Eastern Division. Both teams were among the best performing NL teams in August.Atlanta, who lost the day before (31st), predicted veteran Charlie Morton as the starting lineup, while the battle between momentum and momentum drew attention.