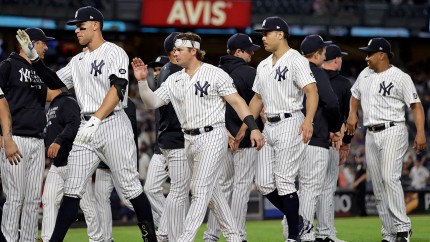 The MLB New York Yankees finished second in the American League East with a doubleheader match against rival Boston Red Sox.
The Yankees defeated Boston 5-3 and 2-0, respectively, in a seven-inning double header at Yankee Stadium in New York on the 18th.
With a 68-52 season, the Yankees pushed Boston to a 69-53 record and jumped to second place in the district.
The Yankees breakthrough is bad news for the Toronto Blue Jays, who are looking to play fall baseball.
Toronto, fourth in the same district, lost to the Washington Nationals on that day and played four games against the Yankees and Boston.
Currently, the strongest player in the Eastern Division of the American League is the Tampa Bay Rays,a team of Ji-man Choi, which has the highest win rate in the league (0.608/73–47).
Last year, when the league schedule was shortened due to the spread of COVID-19, 16 teams from both major leagues advanced to the postseason.
But this year, back to 162 games per team, only 10 teams, 5 teams per league, enjoy fall baseball.
Toronto needs to finish first or second place in a win rate out of 12 teams excluding the three division champions to advance to the postseason as a wildcard, but things are not going well.
In the American League Central Division, the Chicago White Sox are likely to win, and in the Western Division, the Houston Astros, Oakland Athletics and Seattle Mariners form a three-way structure.
Toronto, which currently stands at 63 wins (55 losses), needs to top the Eastern Division or outperform the Yankees, Boston, Oakland and Seattle in order to play fall baseball.
In particular, you will have to risk your life against the Yankees and Tampa Bay in the same district as the rest of the day.
Toronto's match against Boston this year ended with a 9-10 record, and 7 matches against the Yankees, which were tight at 6-6, is considered to be the battle that will determine Toronto's fate.
Also important is how many more wins in the remaining 6 matches against Tampa Bay, which are 5-8.
The Yankees and Tampa Bay games are concentrated in September, so the responsibility of first starter Ryu Hyun-jin is expected to become even heavier.