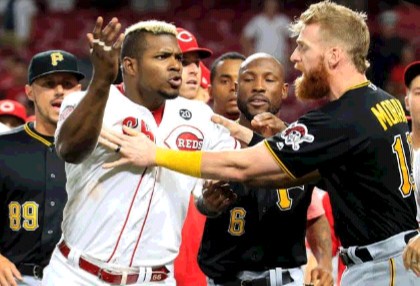 Yasiel Puig,the wild horse who did not receive an offer to join the American professional baseball major league team, eventually became a player in Mexico.
The US sports media ESPN announced on the 20th,that Puig will sign a contract with El Aguila de Veracruz of the Mexican League.
Puig made his big league debut at the Los Angeles Dodgers in 2013, batting 0.319, 19 homers and 42 RBIs in 104 games.
Puig, who led the rebound of the Dodgers, who had fallen to the bottom of the planet, took second place in the National League Rookie of the Year Award.
At the beginning of his debut,He enjoyed explosive popularity by showing off a wild horse-like play based on the power and speed emanating from his muscular body.
In Korea,he is known as hyun-jin ryu's'best friend with Juan Uribe and others.
However,Puig has never ceased to be praised for hurting his team's mood with his assertive actions, and during the Dodgers he was constantly in conflict with the team's ace Clayton Kershaw.
Coach Dave Roberts solved the problem caused by Puig, and he publicly stated that he had to spend more time on the team than the rest of the team combined.
With a firm image of bad boy,Puig could not play in the big league for the last time in 2019, even though he is still a competitive player.
Puig was scheduled to join the Atlanta Braves ahead of the 2020 season,but his contract was canceled as he was diagnosed with a novel coronavirus infection.
Kiwoom Heroes, a professional baseball team in Korea, also considered recruiting Puig as a substitute for Taylor Motors.
In fact, Kiwoom met Puig's agent and went to Korea, but the contract could not be concluded due to his strong willingness to remain in the major leagues.
But Puig's wishes didn't come true this year either.
Cuban outfielder Puig made 861 appearances in seven seasons in the Major League, leaving 132 homers and 415 RBIs.