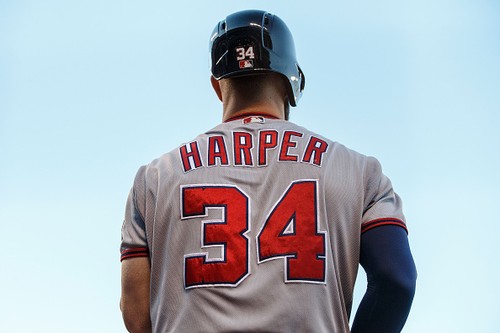 By MARC MALKOSKIE
With the deadline for qualifying offers passing yesterday, another year of free agency is upon us. With this year's class undisputedly being the most fruitful of recent memory, Brian Cashman and Hal Steinbrenner will have a lot of options when shaping the 2019 roster. Here are my early predictions, beginning with the starting lineup:
1. Aaron Hicks, CF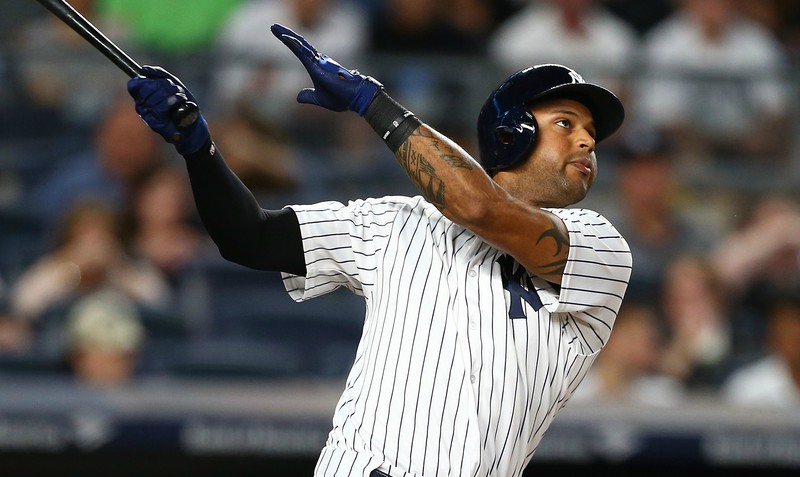 Despite recent trade rumors, A-Aron isn't going anywhere…yet. The 29-year-old will be eligible for free agency after the upcoming season, and Cashman may look the other way then, depending on the growth of top-prospect Estevan Florial. Hicks batted .248 in 2018 with a career-high 27 home runs, expanding his role to almost an everyday starter. His ability to hit from both sides of the plate boosts his value significantly, making him a nice bat to have at the top of the order.
2. Aaron Judge, RF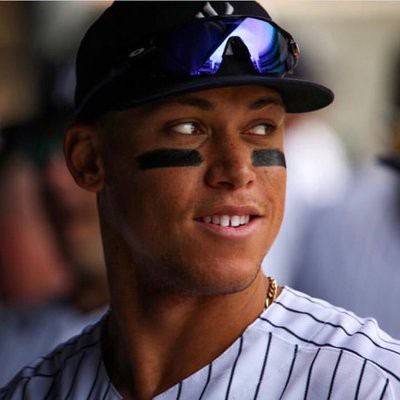 The common fan's favorite player could very well retire in pinstripes with the path he's on. Judge is locked up through at least 2022, and could likely produce another 50 HR season if he stays healthy.
3. Bryce Harper, LF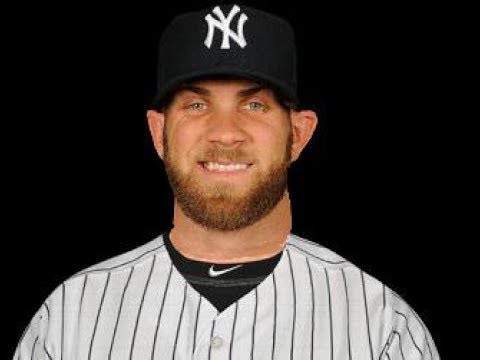 The latest rumors are that the Bombers aren't interested in the FA Class of 2018 headliner, but do you really believe that? This day in age, a 26-year-old superstar doesn't hit the free market, let alone to have two of them in the same offseason with Harper and Manny Machado. You have to sign one of these generational talents if you're the front office. If given the choice, I think you go with the left-handed-hitting Harper, who would thrive playing into the short porch for 81 games. Give Bryce 8 years, $260M, and bring back the Evil Empire.
4. Giancarlo Stanton, DH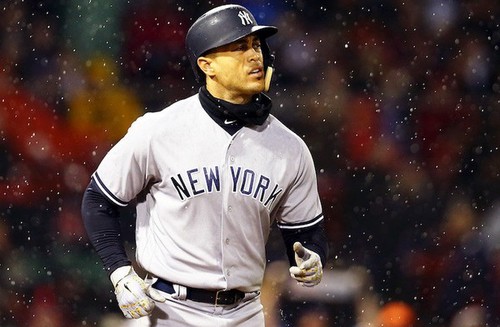 The team leader in home runs last season will earn $26 million in 2019, but will need to work on his approach at the plate this offseason, as the slugger struck out in over 34% of at-bats this season for a total of 211 strikeouts, second only to White Sox' Yoan Moncada (217).
5. Miguel Andujar, 3B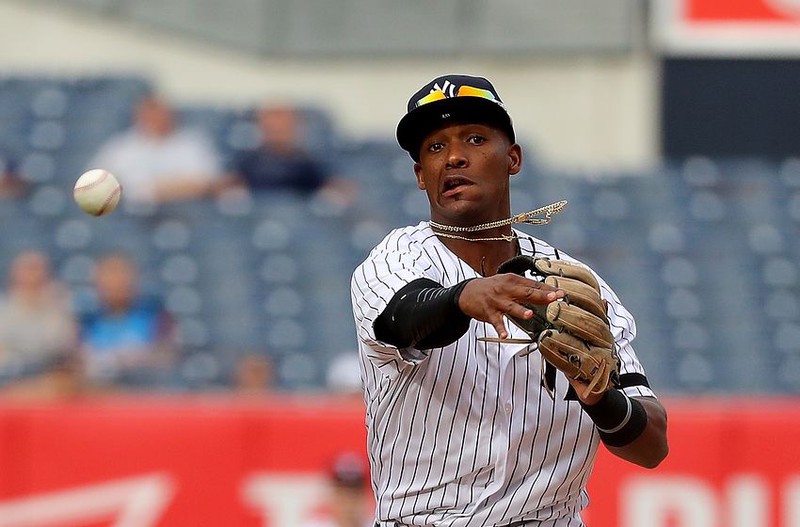 There's a lot of trade speculation revolving Miggy, but can you really trade away the runner-up in AL Rookie of the Year voting? He has had his defensive struggles, but that will be the main focus of his offseason training. If Andujar continues to struggle with his fielding, don't be surprised if he spends a lot of next year as the DH if Stanton's hamstrings hold up ad allow him to become an everyday outfielder again. There's a chance Boone will slide him over to first base if the woes at 3B resume, a scenario much more reasonable than a move to left field as rumored.
6. Gary Sanchez, C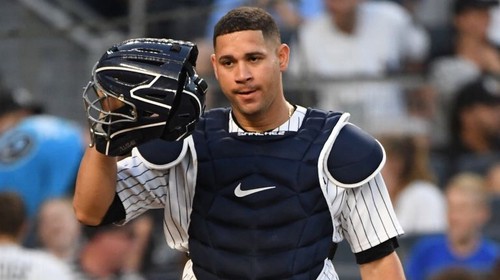 Don't buy the rumors of the direct swap for J.T. Realmuto. The Kraken isn't going anywhere this offseason, and I truly believe his struggles at the plate will be fixed and he'll return to the Gary we saw in 2016-17. The 25-year-old has made it a goal to become a better backstop next year, as he's been frequently training with HOF catcher "Pudge" Rodriguez on improving his defensive skills.
7. D.J. LeMahieu, 2B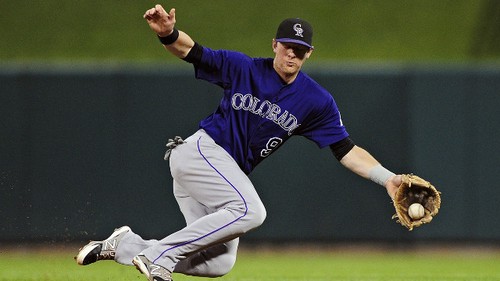 LeMahieu is a .298 career hitter, and I see him as the best free agent solution to the absence of Didi Gregorius. He made $8.5 million with the Rockies last season, and will probably draw a similar value on the market this offseason. If the Yankees can pay him a little more for a one-year deal, don't be surprised if he ends up in pinstripes next season.
8. Luke Voit, 1B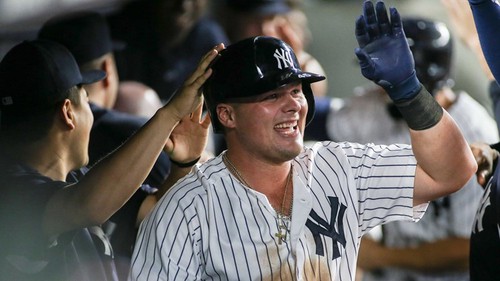 Going into spring training, the first base job will be Voit's to lose. Louis Linwood averaged a homer per 9.4 at-bats in his 39 games with New York last season, and now he'll get to show whether or not he's more than just a flash in the pan.
9. Gleyber Torres, SS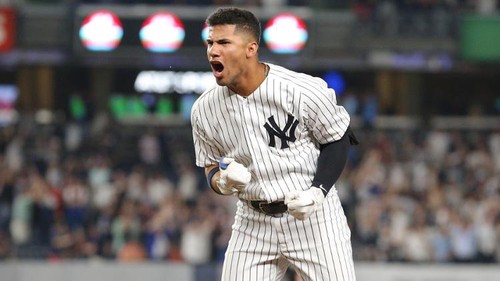 Gleyber was traded to New York in the 2016 Chapman deal as a shortstop prospect, so the move back to the left side of the infield while Didi is out won't be an issue. I personally would like to see Torres higher up in the order, preferably lead-off, but he's proven to fit well as a second lead-off at the bottom of the order.
BENCH
Brett Gardner, OF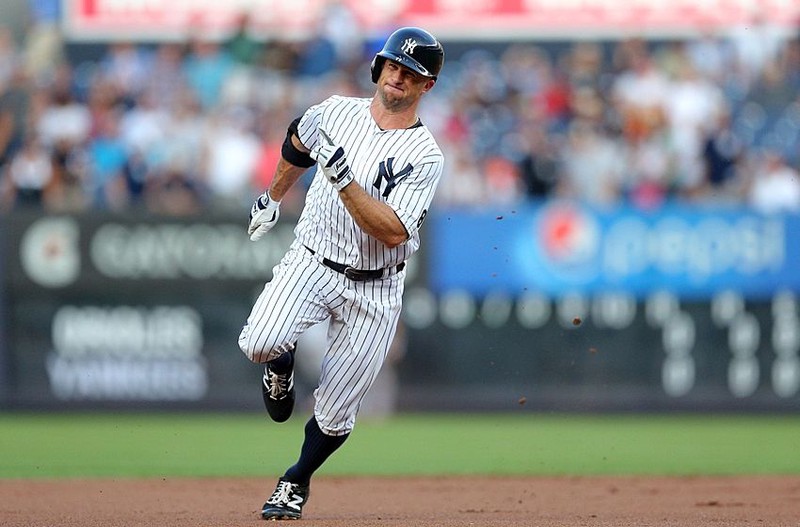 Gardy was surprisingly brought back on a reworked one-year, $7.5 million last-hoorah deal. Brett will still be the leader in the clubhouse along with Sabathia, but you can't expect him to be an everyday starter in 2019. Even if the Yankees don't land Harper, you need to pick up a Michael Brantley or Marwin Gonzalez to get a good chunk of the workload in LF, as injury-prone Clint Frazier can't be relied upon, if he's still a Yankee by the time Opening Day rolls around. Gardner will fit well into the fourth outfielder role, primarily coming off the bench as a matchup pinch-hitter or pinch runner.
Neil Walker, UTIL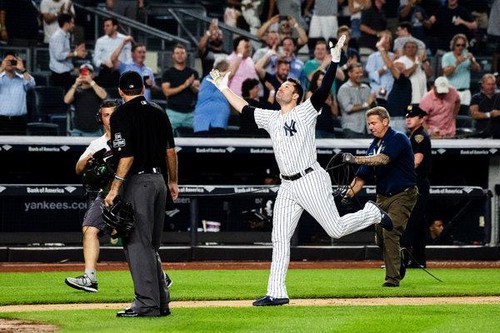 No one saw Walker as more than a one-year rental on Opening Day last season, but the 33-year-old showed flashes of his earlier years last season, playing 7 positions (including DH) for the Yanks last year and coming up clutch pinch-hitting a few times. He earned $4 million last year, but a career-low OPS of .664 last season will definitely lead to a lower asking price, perhaps in the $1.5-2.5 million range.
Austin Romine, C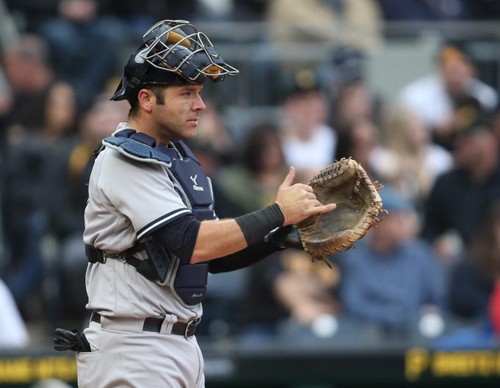 Romine was the best backup catcher in baseball last season, batting career-highs .244/.295/.417 with ten homers in 77 games for the oft-injured Gary Sanchez. Austin avoided arbitration and earned $1.8 million last year, and is entering the last year of his deal.
STARTING ROTATION
1. Luis Severino, RHP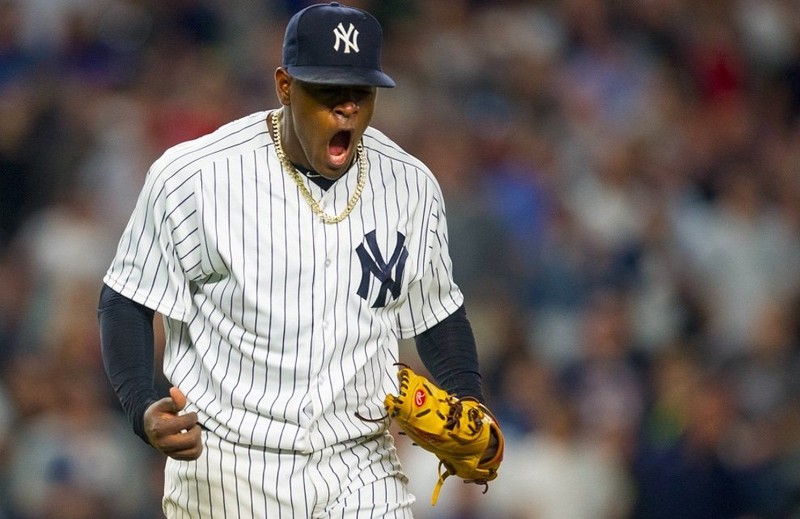 Sevy was a Cy Young frontrunner heading into the All-Star break last year, before practically falling apart in the second half. Unless the Yankees would trade for Scherzer or DeGrom (wishful thinking), Severino will definitely be the ace of the staff again in 2019. The Yankees were 31-4 in Sevy's 35 starts from 7/7/2017 to 7/12/2018, a feat that hasn't been done since Ron Guidry in 1977-78.
2. Patrick Corbin, LHP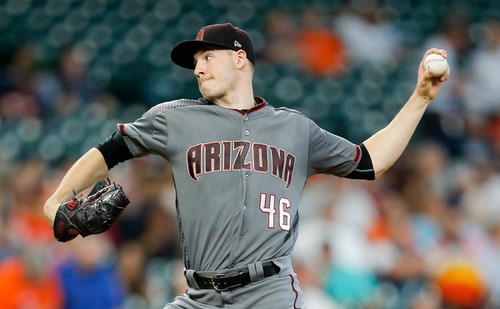 OddsShark has the Yankees at -150 to add Corbin to the rotation, and I'm buying it. The Arizona lefty grew up a fan of New York and has made it known he wants to play in pinstripes. At 29-years old, Cashman will likely seek a four-year deal versus five or six, likely averaging $18-20 mil per year, as his stock has risen significantly, tossing up career-lows in ERA and WHIP (3.15 and 1.05, respectively).
3. Masahiro Tanaka, RHP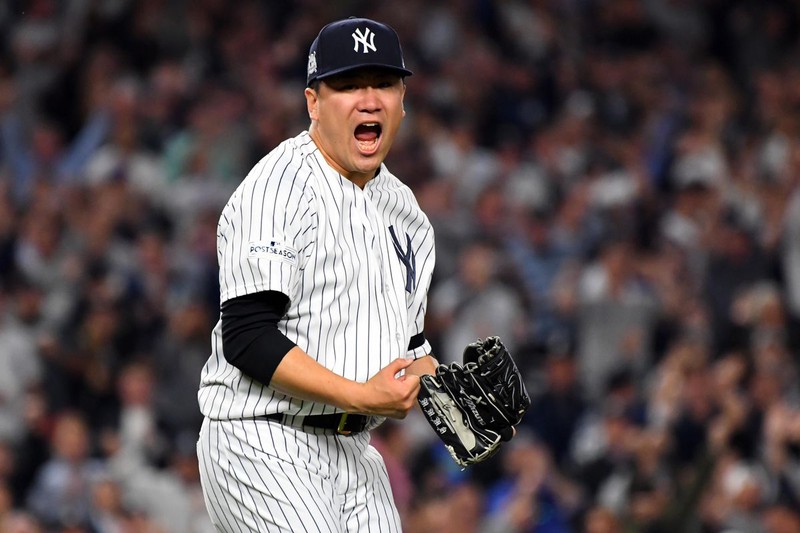 Tanaka will make $22 million again in 2019 and will hopefully be the Yankees No. 3 at highest, provided they add Corbin, Keuchel, Morton, Kluber, or Paxton (or two of the five previously listed). Masahiro has been consistent, aside from a below-average 2017, in his five years in the majors since coming over from Japan, posting at least 12 wins and no higher than a 3.75 ERA in each of those four seasons.
4. J.A. Happ, LHP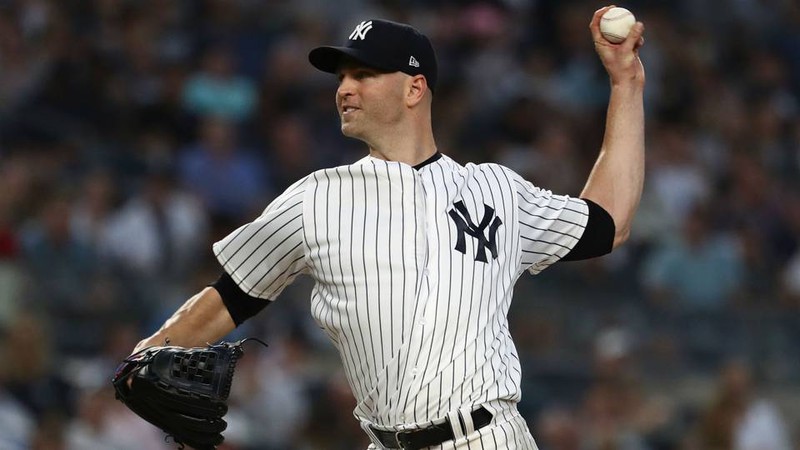 Happ is crazy if he expects to get $13 million again on a new deal, as he'll be 36 years old on Opening Day. If the Yankees are willing to fork over $7-9 mil, the lefty would be smart to take it, as he fared well pitching in the Bronx after coming over before the trade deadline, sporting a 4-0 record with a 2.72 ERA in 39.2 innings in Yankee Stadium down the stretch last year. The only argument against a Happ return, is the fact he'd be the third lefty in the rotation if the Yanks sign Corbin or Keuchel.
5. CC Sabathia, LHP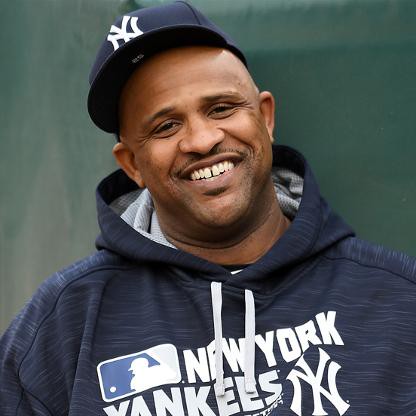 One last ride for the second-longest tenured Yankee. It's no secret that CC isn't the pitcher he once was, but he was still able to post a 3.65 ERA last season in 153 innings. If the 38-year-old Sabathia really falls off in April and May, there's a chance he could be demoted to a long-reliever role in the bullpen, but regardless, along with Gardner, he'll continue to be a mentor for his younger teammates in the clubhouse for an overpriced $8 million.
BULLPEN
Closer: Aroldis Chapman, LHP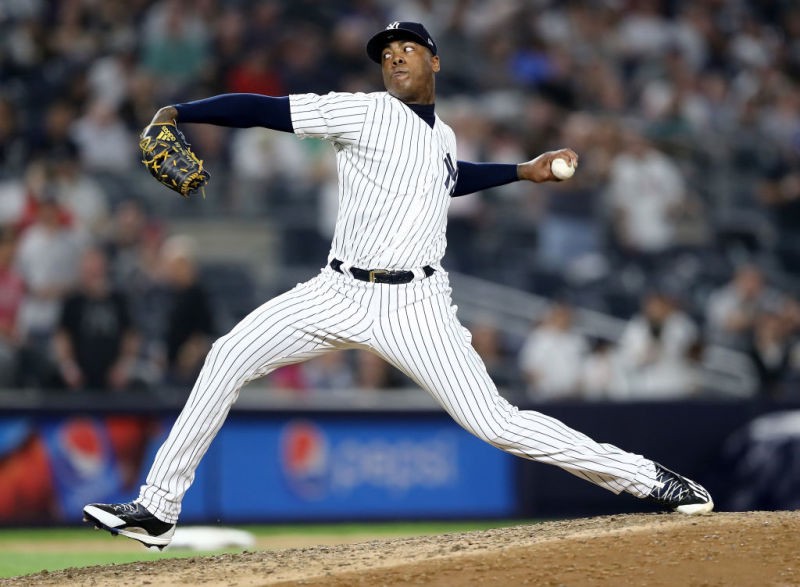 The Cuban Missle will return to the Bronx for $15 million with a player option after the 2019 season. Chapman made fools out of his carryover 2017 doubters by throwing up a 2.45 ERA, going 32/34 on save opportunities while fanning an insane 16.3 batters per 9 innings.

Setup Man: David Robertson, RHP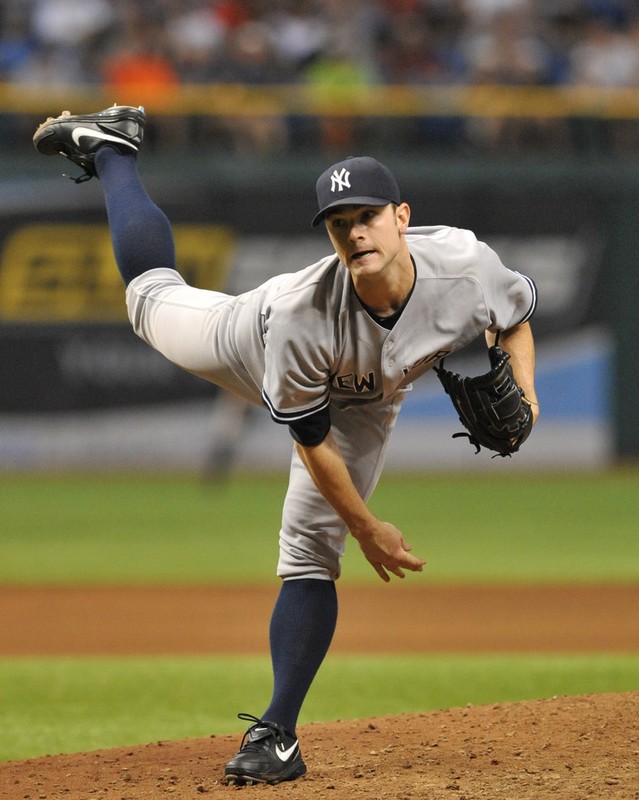 Just two days after the Yankees' Game 4 loss in the ALDS, Robertson announced he'd be representing himself in free agency offseason. Hidden message? I believe so. Why would he ditch his agent if there wasn't a deal already in the works for him to return to the Bronx on a much-cheaper, one-year deal than the $13 mil he received in 2018. With #30's return, there will still be three players on the 2019 Opening Day roster from the team that won the World Series ten years ago.
Setup Man: Dellin Betances, RHP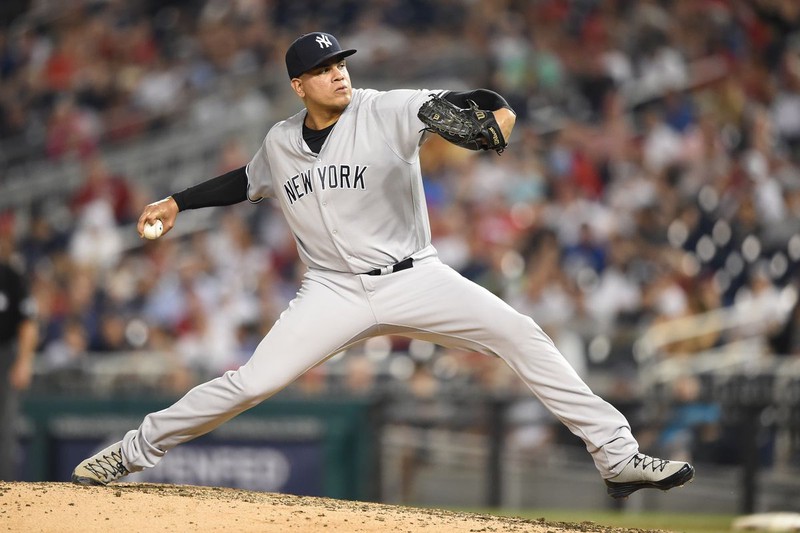 Dellin remains one of the Yankees' most untradable pieces, but he will be free agency-eligible after the 2019 season, which will most likely allow him to get paid close to triple of the $5.1 mil he's slated to earn next season.
Middle-Reliever: Chad Green, RHP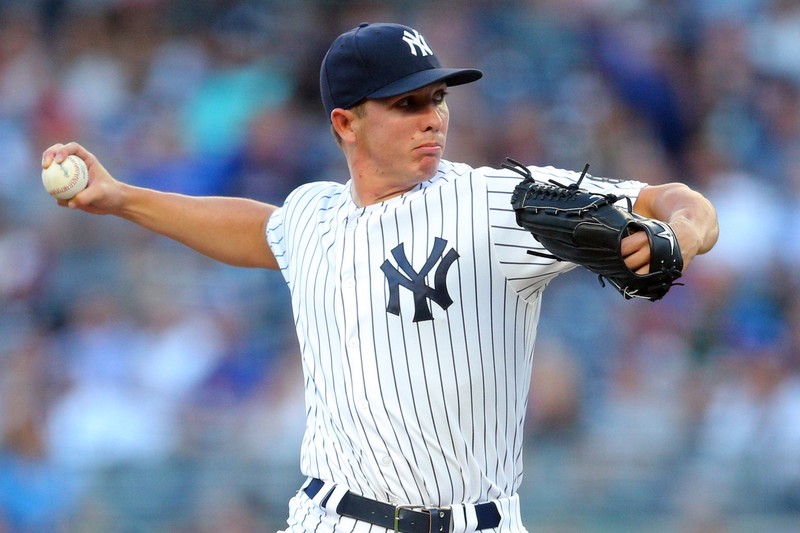 Chad Green is under contract through 2022, but if his value remains high, he could likely be moved in a midseason deal for a quality starting pitcher next season if the need is there. Green struck out 84 batters in 75.2 innings of work last year, doing so with a 2.50 ERA.
Middle-Reliever: Jonathan Holder, RHP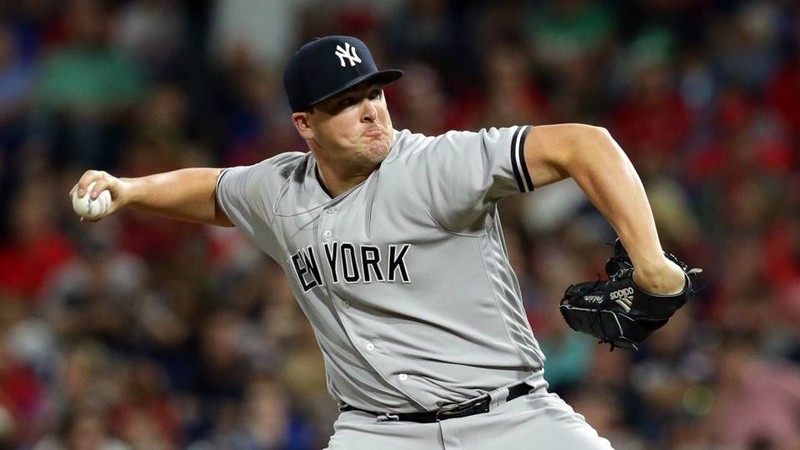 Holder opened a lot of eyes with his stellar first half in 2018 before slightly dropping of after the All-Star break. Still could be called upon in some high-leverage situations in 2019, or provide two strong innings when needed.
Long-Reliever/Sixth starter: Jonathan Loaisiga, RHP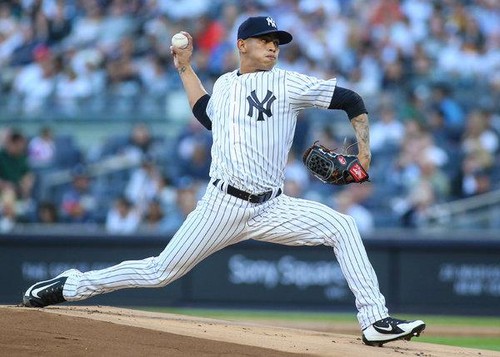 "Johnny Lasagna" had his ups and downs in his brief rookie campaign, as you'd expect from a 23-year-old. Depending on his spring training, he could be in the mix for the No. 5 starter if front office can only acquire one starting pitcher, a scenario quite unlikely to happen, but a scenario nonetheless.
Long-Reliever: Tommy Kahnle, RHP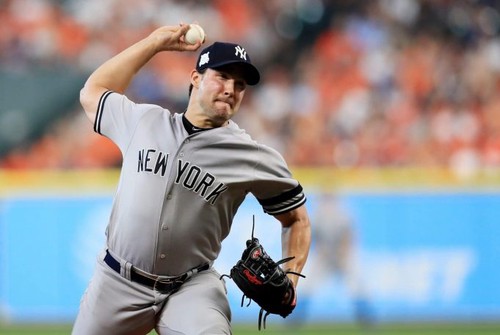 It's no secret Kahnle had a down year, posting an ugly 6.56 ERA in just 23.1 innings of work in the majors. Due to lack of experience in the youthful bullpen pool the Yankees have to choose from in Scranton/Wilkes-Barre, I believe Kahnle will find a spot on the Opening Day roster, but will have a short leash. If his struggles carry over into next April, he could easily find himself spending a lot of time in AAA again, or get designated for assignment, as he's rapidly running out of minor league options.
Long-Reliever: Mike King, RHP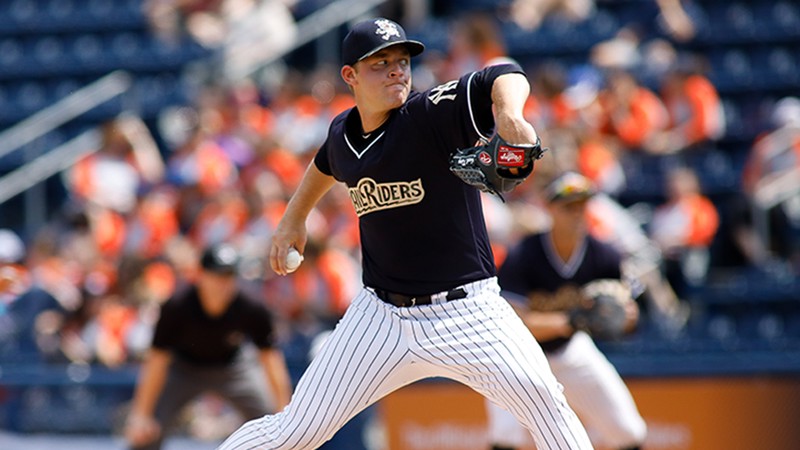 You're probably wondering who is Mike King. He's a 23-year old minor-league prospect the Yankees received in exchange for 1B Garrett Cooper from Miami last November, who has since posted an 11-5 record and astonishing 1.79 ERA in 161.1 innings between Tampa, Trenton, and Scranton/Wilkes-Barre last year. This guy is the real deal and could eventually work his way into the rotation, but for now he'll be in the back end of the bullpen or as a AAA starter in April, depending on his Spring Training performance.
More so than in years past, the Yankees will have a big budget to utilize this offseason. Will they take advantage of it? I can't imagine a scenario that they don't. Stay tuned for updates as the offseason begins to unfold.