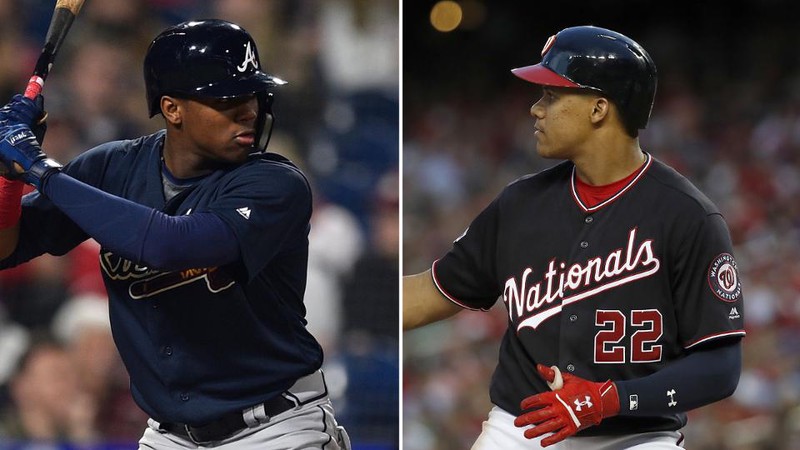 The 2018 Major League Baseball season is one that could be dubbed "the year of the rookie" for several reasons. The amount of talent in their first year of baseball at the top level has been staggering.
While the American League has had their own battle, the race for the National League Rookie of the Year is tough to call with just a couple of weeks left in the season.
The race for NL Rookie of the Year is actually two battles; one for first place, and the other for a distant third. At the top of the youngster stack are Atlanta Braves phenom Ronald Acuña Jr (20), and Washington Nationals star Juan Soto (19). Both are setting records for home runs amongst their age groups.
Acuña is just the seventh player, and the fastest in MLB history with a 25-home run season before turning 21 (Eddie Mathews, Orlando Cepeda, Al Kaline, Tony Conigliaro, Frank Robinson, and Mel Ott are the others, five of the six are in the Hall of Fame). While Soto already has the third most homers by a teenager (20) trailing only Bryce Harper (22) and Conigliaro (24). Soto will also likely end the year with the highest on-base percentage (.417) of any teenager in MLB history.
The two have given their respective teams a boost in the lineup they weren't otherwise expecting. Braves manager Brian Snitker has been among those in awe.
"The maturity is just unbelievable with this kid," said Snitker. "He goes up there with a lot of confidence."
Confidence is a word that could be associated with both young players; success is another.
In only 378 at-bats Acuña has 112 hits, 25 homers, 71 runs scored, 42 walks, 55 RBIs, 14 stolen bases, and an OPS (On-base plus slugging) rating of .954 with a batting average of .296, along with a monstrous .586 slugging percentage (leading the majors since the All-Star break). In just 92 games, Acuña has pushed his name into some discussions about this year's MVP award.
In 363 plate appearances, Soto has 110 hits, 20 homers, 70 runs scored, 62 RBIs, 74 walks, and an OPS rating of .951, a batting average of .304, along with an unreal on-base percentage of .417. While Soto isn't really known for stealing bases, he set the MLB record for youngest player to steal three bases in a game on Saturday against Acuña's Braves.
"His ability to work the count and draw walks — he's elite in that regard already," Nationals GM Mike Rizzo said about Soto.
Acuña and Soto have been neck and neck for weeks now in terms of who has had the better year...a battle that will likely be debated by fans of both weeks after the season ends. Whichever way the voting goes, fans can relax knowing that the future of baseball is most definitely brighter with these two around.
Best of the Rest
Joining Acuña and Soto in the crowded NL Rookie of the Year discussion are a collection of talented players, who in any other year, would have been primary candidates.

Harrison Bader, Outfielder, Cardinals - If Acuña and Soto weren't having the year they are Bader would be the talk of the league at this point. In 333 at-bats he has 90 hits including ten homers, 53 runs scored with 32 RBIs, and an OPS rating of .763, and a batting average of .267. Bader's main quality is his defensive ability, he will likely get his first gold-glove this year.
Walker Buehler, Starting Pitcher, Dodgers - The former first-rounder who has a 100 mph fastball and a pretty wicked curveball was expected to excel this year and hasn't disappointed. In 20 starts, Bueler has a 7-5 record with an ERA of 2.88. He's struck out 131 batters while only giving up 38 earned runs. Buehler has played a major role in the Dodgers push to make the playoffs this year.

Brian Anderson, Outfielder, Marlins - Being on a bad Miami team has hindered Anderson's production. In 548 at-bats he has 149 hits including ten home runs, 80 runs scored and 59 RBIs, with an OPS rating of .753, and a batting average of .270. Much like Bader, Anderson's strength is his glove.

Jeff McNeil, 2B/3B, Mets - In 166 at-bats McNeil has 56 hits including three home runs and 17 RBIs with an OPS rating of .883, and a batting average of .335. McNeil has really come on as the season has progressed. New York will expect big things from him in their infield in 2019.