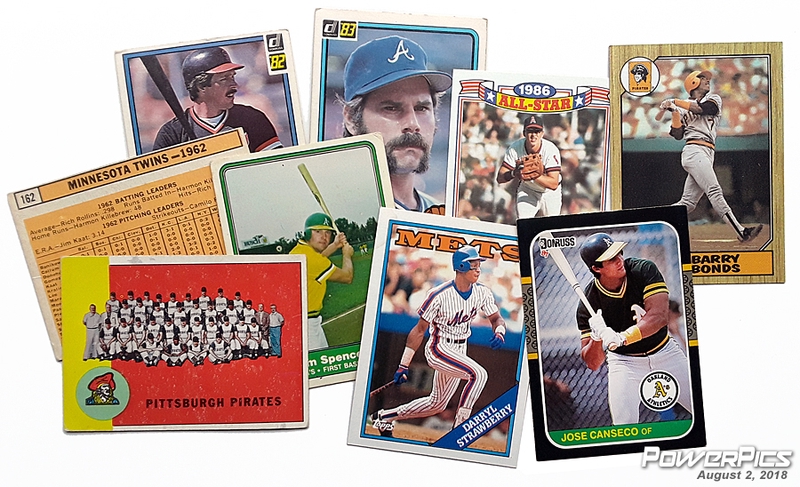 It's been over 20 years since I opened up the boxes of baseball trading cards I collected back when I was a kid.

The last time I opened the boxes to look at them I was 18 years old and choosing which items would continue with me on the journey of life and which items would be left behind as I moved out to live on my own for the first time. Sealed up in there cardboard boxes, my baseball cards have traveled from town to town, and survived 6 moves and 3 hurricanes over the years with me.
So what made me dig them out now?
I have a son now, he is about the same age I was when I first became interested in baseball, and has four core hobbies he has taken an interest in; gaming (of course), karate, piano, and baseball.
Last week he got to go to his very first baseball game with his Summer camp. Our home team, the Miami Marlins, were hosting the Atlanta Braves and roughly 50% of the stadium was filled with various camps out for a baseball field trip day. He was super excited and loved seeing the game in 'real life', not just on TV. The fact the Marlins won the game 9:3 helped pump up the excitement level for all the kids at the game that day.


The cool thing is, I got to watch the game at home while I worked and saw his camp group up in the stands when the camera zoomed in to spotlight the number of kids in attendance. I recorded the game as well.
When he came home and gave told me about all his favorite plays and moments of the game, we were able to fast forward to them on the recording and relive them together. It was great to see him so excited about the experience and knowing he enjoys seeing the games live so we planned to go to more home games together.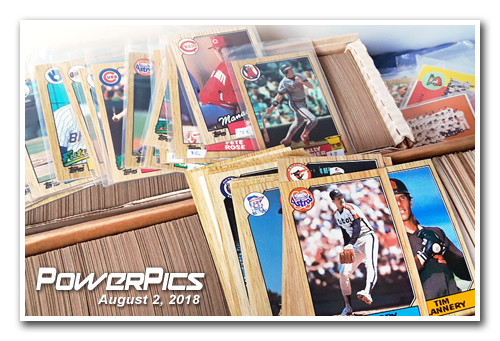 The next day while he was at camp, I took some time to unpack my baseball cards. I figured it was about time to pass them down and see if he is interested in starting to collect current cards as well.
I was interesting to see the odd mix of cards I have again. I do have the full 1987 Topps set, along will a random mix of cards from '82 -'88. Most were given to me by family members or friends. I know that 1987 was the only year I tried to complete a set a full set and I chose Topps because the wood template looked cool to me. ;-)
I was also at summer camp when I started collecting cards so I did have little pieces of paper with the trading value written on some to base trade value with friends. It will be interesting to see how much those have changed. I know the rush of baseball cards died out in the late '80s, but perhaps some have retained a value. I remember never being interested in the "value" of the cards at the time, I just liked the idea of collecting my favorite players.

The first thing my son said when seeing some of the cards was, "They look so funny Papa"! Kids are brutally honest, but I have to agree with him. It's like looking back at old year books, a time capsule of the way things used to be.

So, an old old journey has come full circle to start a new journey.
This weekend we will go buy his first pack of cards to start off his own collection.
~ PowerPics
---
If anyone else has a story to share about passing down sports collectibles to your children, feel free to share in the comments.