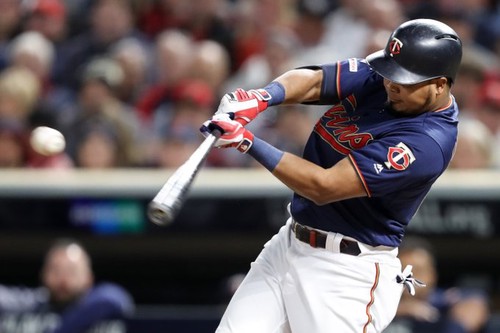 Venezuelan Luis Arráez, second baseman for the Minnesota Twins, surprised us all in the 2019 season due to his extraordinary ability to hit, at just 22 years old (and in his first season in the MLB) he hit .334 , hitting 109 hits in 326 turns and making all of this look easy.
Let's start with the basics, he is a left-handed hitter with superlative contact, he can hit any sector of the field taking advantage of its dimensions, he is characterized by hitting drive lines, he is extremely selective and demonstrates a total knowledge of the strike zone.
The Yaracuyano finished with an on-base percentage of .399 (team leader), something beastly, because in addition to being a batting machine this boy has a hawk eye that he takes advantage of both to hit the ball and to choose the pitches, he struck out just 29 times while taking 36 walks.
"I don't like to strike out," Arráez said with a laugh when asked how he was able to receive more walks than strikeouts.
The Venezuelan received 1.24 passports for each strikeout in 2019, the only player in the entire big top that surpassed him was the finalist for the MVP award, Alex Bregman, with 1.43 (all this with a minimum of 250 plate appearances). Let's go a little further, Arráez averaged just 2.8 missed swings for every 100 pitches he saw, puts the ball in play more than 99% of hitters, only swings 41% of pitches (ranking among 10% of least swinging players), of course, is among the 35 least swinging players out of the strike zone; however, when he does, he has connected the ball 89.2% of the time, first in the ranking of that department. In fact, since 2010, 2709 players with at least 300 plate appearances and this percentage of Arráez is the third, only behind that of Marco Scutaro in 2013 and Juan Pierre in 2011.
Among all MLB players with at least 300 at-bats, Arráez ranked third in AVG (.334), ninth in OBP (.399), First in% strikeouts (7.9%) and first in% of failed swings (2.8 %), that is, it was the one that struck out the least and the one that swings the least; awesome right?
One of the fastest to reach 100 hits
Luís Arraez needed just 286 at-bats to hit 100 hits in the best baseball in the world. After a long and complicated search, we have concluded that the San Felipe player is one of the players who needed fewer turns to reach the 100 hits in MLB, he did it faster than players like Ted Williams, Joe DiMaggio, Hank Aaron, Pete Rose, Ty Cobb, Miguel Cabrera, Juan Pierre, Mike Trout, Derek Jeter, Alex Rodriguez and another long list of gifted people. Of all the data reviewed, only Ichiro Suzuki, Wade Boggs, Albert Pujols, George Waatkins and Yasiel Puig needed fewer turns than Arráez to achieve this figure, probably there are some more who did it in fewer turns than the Venezuelan, but the point is that they are very few. those who have had such a splendid start.
Many experts consider that the Venezuelan swing has an ideal exit angle and is among the best in the big top, as a backup there is the percentage of connected lines, below the top 10 in that department:
Luís Arraez, 30.9%
Whit Merrifield, 28.4%
Freddie Freeman, 27.8%
Cavan Biggio, 27.7%
Aaron Judge, 27.6%
Niko Goodrum, 27.6%
Yadier Molina, 27.4%
Tony Wolters, 27.3%
Neil Walker, 27.2%
Chris Taylor 27.1%
Considering Luis Sangel is at the top on a player like Merrifield (who has led the majors in hits in the last two years) it would not be unreasonable to say that he can dethrone the Kansas City player and even opt for a batting title.
Acquiring power
"La Regadera", as it has been nicknamed, disappeared the ball into the stands only four times in 2019, but at a press conference with the Twins, he said he has been working to improve his power in the batting box.
"I want to hit 10 home runs this year" he said convinced, "I want to stay the same but I think I have a little more strength this year, I have been working on that and now I can connect the ball with more forcefulness towards my band" ended the player who belongs to the Navegantes del Magallanes in Venezuela. His main tutor for acquiring power is being nothing more and nothing less than Nelson Cruz, whose ability to connect home runs is beastly, remaining among the top 10 home runners in the American League for six consecutive years and harvesting 401 career dingers.
If there is any player in a species of extinction, that is Luis Arráez, a supernatural ability to make contact and a total knowledge of the strike zone, something that is practically impossible to achieve today; without a doubt, this young baseball player promises, a lot.