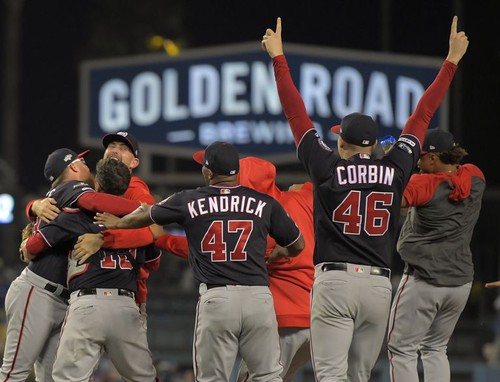 Main figure: Max Scherzer
Manager: Dave Martinez
The Washington Nationals will face this 2020 basically with the same team that became champion last season, the difference is that their main reference in the offensive, Anthony Rendon, is no longer, and that their head of the department of psychology and mood, for saying something that Gerardo Parra did, he went to Japanese baseball.
The capital team has one of the best starting rotations in the world, being led by three-time Cy Young Award winner Max Scherzer, followed by the pitcher who has needed the fewest innings to achieve the 1500 MLB strikeout figure, Stephen. Strasburg, as third will be the talented left-hander Patrick Corbin and the other safe place will be for the Venezuelan Aníbal Sánchez, who showed that he still has enough gasoline to travel in the majors.
In the Bullpen are Sean Doolittle and Daniel Hudson, who were fundamental in the Nats postseason, also added Will Harris, who with Houston was a high-quality reliever, of course we cannot forget Wander Suero and Tanner Rainey, who they are just beginning their journey in the big top.
In the batting round, Juan Soto stands out from the rest, a player who has plenty of talent and is at the dawn of his career, the same thing happens with Víctor Robles; There are also experienced figures like Ryan Zimmermann, Asdrúbal Cabrera and Howie Kendrick and we cannot fail to mention Trea Turner, one of the fastest players in the Major League.
Probable lineup for Opening Day:
1) Trea Turner, SS
2) Adam Eaton, RF
3) Juan Soto, LF
4) Eric Thames, 1B
5) Asdrúbal Cabrera, 2B
6) Starlin Castro, 3B
7) Kurt Suzuki, C
8) Victor Robles, CF
Probable rotation:
1) Max Scherzer
2) Stephen Strasburg
3) Patrick Corbin
4) Aníbal Sánchez
5) Joe Ross
Bullpen: Sean Doolittle, Daniel Hudson, Will Harris, Wander Serum, Tanner Rainey, Roenis Elias, Ryne Harper.