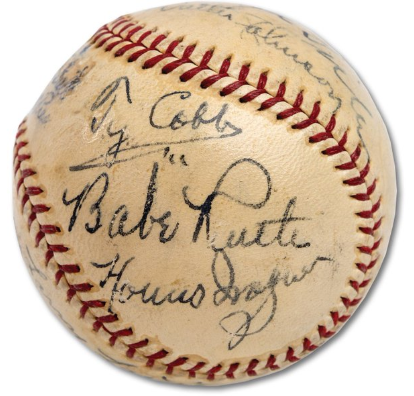 The ball sold for $632,369 dollars. It includes the signatures of Babe Ruth, Ty Cobb, Cy Young, Honus Wagner, Tris Speaker, George Sisler, Walter Johnson, Connie Mack, Nap Lajoie, Eddie Collins, and Grover Cleveland Alexander. This same ball sold for $55,000 back in 1997, so its value has increased over 10 fold since that sale just over 20 years ago.
How It Compares To Other Famously Sold Baseballs
Mark McGwire's 70th home run ball sold for a whopping $3 million dollars back in 1998. In 2003, Barry Bonds 73rd home run ball sold for $450,000. A sole autographed Babe Ruth baseball sold for $388,375 back in 2015. For a ball with 11 signatures of some of baseballs all time greats I would say the price was a steal. Especially when comparing it to some of the home run ball prices. I expected the sale price to be a few million dollars but it was much cheaper. I don't have $630k laying around to make a purchase like this but I expect the next time the ball is sold it will go for way over $1 million dollars.