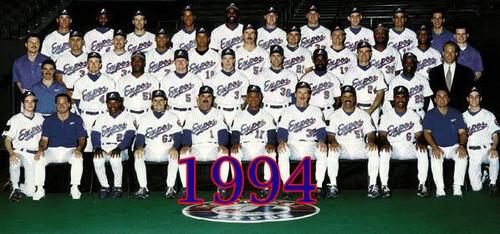 By Zane Miller
On Thursday, August 11th, 1994, the 1994 MLB season concluded with the Montreal Expos (now Washington Nationals) holding the best regular season record at 74-40. The New York Yankees had the best record in the American League at 70-43, however the season was concluded early due to a players' strike. No official champion was determined.
Atlanta Braves pitcher Greg Maddux earned the National League Cy Young Award, taking a 16-6 record with a 1.56 ERA, pitching a total of 202 innings. Kansas City Royals pitcher David Cone won the American League Cy Young Award with a 16-5 record and an ERA of 2.94, pitching a total of 171.2 innings.
Houston Astros first baseman Jeff Bagwell was the National League MVP, hitting 39 home runs with 116 RBIs and a .368 batting average. Chicago White Sox first baseman Frank Thomas took the American League MVP with 38 home runs, 101 RBIs and a .353 batting average.
1994 Final Standings
AL East
New York Yankees (70-43, .619)
Baltimore Orioles (63-49, .562)
Toronto Blue Jays (55-60, .478)
Boston Red Sox (54-61, .470)
Detroit Tigers (53-62, .461)
AL Central
Chicago White Sox (67-46, .593)
Cleveland Indians (66-47, .584)
Kansas City Royals (64-51, .557)
Minnesota Twins (53-60, .469)
Milwaukee Brewers (53-62, .461)
AL West
Texas Rangers (52-62, .456)
Oakland Athletics (51-63, .447)
Seattle Mariners (49-63, .438)
California Angels (47-68, .409)
NL East
Montreal Expos (74-40, .649)
Atlanta Braves (68-46, .596)
New York Mets (55-58, .487)
Philadelphia Phillies (54-61, .470)
Florida Marlins (51-64, .443)
NL Central
Cincinnati Reds (66-48, .579)
Houston Astros (66-49, .574)
Pittsburgh Pirates (53-61, .465)
St. Louis Cardinals (53-61, .465)
Chicago Cubs (49-64, .434)
NL West
Los Angeles Dodgers (58-56, .509)
San Francisco Giants (55-60, .478)
Colorado Rockies (53-64, .453)
San Diego Padres (47-70, .402)
Link to stats database: https://baseball-reference.com/leagues/MLB/1994.shtml
For more details on the cancelled 1994 World Series: https://scorum.com/en-us/mlb/@zmiller82/why-the-1994-world-series-never-happened-pt-1
https://scorum.com/en-us/mlb/@zmiller82/why-the-1994-world-series-never-happened-pt-2