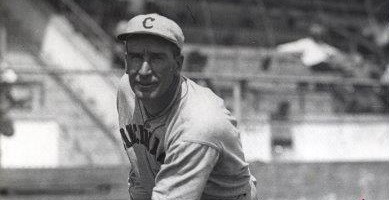 Link to Part 1: https://scorum.com/en-us/mlb/@zmiller82/the-career-of-eppa-rixey-pt-1
By Zane Miller
Rixey's debut in the Queen City saw him pass 300 innings pitched for the first time in a season, throwing 301 on the way to a 19-18 record with a 2.78 ERA and 76 strikeouts, further cementing his reputation as one of the most durable pitchers in MLB history. In addition, he also collected the 100th win of his career on July 31st, 1921 in a 12-inning game against the Giants, which the Reds won 8-7 as Rixey appropriately pitched a complete game.
In 1922, Rixey dug even deeper to silence any doubt of his dependability, going a career-high 313 and a third innings with another career-high 25 wins, packaged with a 3.53 ERA and 80 strikeouts as the Reds scored an 86-68 record, coming up one spot shy of making it to their second World Series in franchise history. Although the Cy Young Award and NL MVP award didn't exist at this point in MLB history, there's certainly a strong chance that Rixey would have gotten serious consideration. The 1923 campaign saw Rixey get another 20-win season, with an ERA of 2.80 and 97 strikeouts while going 309 innings. The Reds would have yet another strong season, finishing at 91-63, though they would be runners-up behind the Giants for a second year in a row.
Despite a somewhat modest 15-14 record in 1924 to follow up two straight 20-win seasons, Rixey's 2.78 ERA was on par with his prime years despite his innings pitched and strikeouts dropping to 238 and a third and 57 respectively. The most special of those K's came on September 18th against the Giants, earning his 1,000th career strikeout against rookie left fielder Hack Wilson, who would go on to set the single-season RBI record of 191 in 1930, a record which still stands to this day. Interestingly, 1924 would be the only year in which Rixey received any MVP votes, as the NL reinstated the award for the first time since 1914, though he did not come close to surpassing the eventual winner in Robins pitcher Dazzy Vance. While the Reds scored another winning season, their 83-70 finish put them at midpack amongst the other NL teams.
1925 would mark a turning point for Rixey's career, as this would be the final season in which he would surpass 20 wins, going 21-11 on the way to a 2.88 ERA and 69 strikeouts in 287 innings, with the Reds again missing the postseason despite a winning record at 80-73. The 1926 and 1927 seasons would not be much to write home about for Rixey, as he only had 14 and 12 wins respectively as his ERA jumped to 3.40 and 3.48 as well. However, his main highlight from these two years occurred on September 13th, 1926, as he and the Reds defeated the Robins 4-0 for his 200th career win in a complete game shutout. While the team secured their fifth consecutive winning record in 1926 at 87-67, this streak would come to an end in 1927 with a 75-78 run.
1928 would be somewhat of a return to form for Rixey, going 19-18 while pitching 291 and a third innings and getting 58 strikeouts, although his ERA remained below standard at 3.43. While Cincinnati fought back to a winning record of 78-74, this would be the final season of relevance for the team for quite some time, as they would not see another season above .500 until 1938.
By the end of 1929, it became pretty clear that Rixey's career was beginning to wind down, as he went 10-13 for his first losing record since the 1920 season, as well as pitching to a 4.16 ERA with 37 strikeouts in 201 innings. 1930 would be even worse for both Rixey and the team, as he picked up just nine wins as his ERA ballooned to a career-worst 5.10 while going just 164 innings, his lowest output since 1919. Consequently, the Reds fell from 66-88 in 1929 to an abysmal 59-95 in 1930, the lowest win total in the team's 27-year existence in the MLB. However, there would be a ray of sunshine for Rixey during this disastrous campaign, as he took down the Robins 5-1 in the second game of a doubleheader on August 23rd for career win #250.
In 1931, Rixey's role became even more diminished with just 126 innings and two-thirds innings pitched, as he took a 4-7 record with a 3.91 ERA and 22 strikeouts, with the Reds sinking further in the standings with a 58-96 finish. However, 1932 would bring with it a little bit a little bit of history for the team, as this was the first season that the Reds would use official uniform numbers. Rixey claimed #18, obviously becoming the first Reds player to use this number. While it would eventually be retired in Cincinnati midway through the 1998 season, its retirement would be for longtime first baseman Ted Kluszewski, who used the number from 1948 to 1957.
Rixey had an improved 1932 season being used primarily out of the bullpen, claiming a 2.66 ERA, his first sub-3 ERA since 1925, while taking a 5-5 record in 111 and two-thirds innings with the Reds finishing at 60-94. In what would be his swan song season in 1933, Rixey captured a final winning record and first since 1928 at 6-3, while pitching to a 3.15 ERA in 94 and a third inning, while capturing 10 strikeouts. Despite this, the Reds would have another miserable year, finishing at 58-94. With his final game, and final career win, coming on August 5th in a 6-3 victory over the St. Louis Cardinals in a complete game effort, Rixey finished his MLB career with 266 wins, 692 games played, 4,494 and two-thirds innings pitched, 1,350 strikeouts and a career ERA of 3.15.
After announcing his retirement, Rixey joined an insurance business in Cincinnati owned by his father-in-law, where he would eventually be selected to serve as president. After being voted into the Cincinnati Reds Hall of Fame in 1959 in just its second year of operation, he would then be inducted into the National Baseball Hall of Fame in 1963. Upon hearing the news that he would soon be officially entered into the Hall of Fame, Rixey joked, "I guess they're really scraping the bottom of the barrel, aren't they?"
Tragically, before Rixey could officially accept his induction, he passed away from a heart attack on February 27th, 1963, at age 71. His daughter, Ann, attended the enshrinement ceremony on his behalf that August. Longtime teammate and Reds catcher Bubbles Hargrave said of Rixey, "He was great as a pitcher, fielder, and competitor. I look on him as the most outstanding player I came in contact with in my entire career."
List of sources:
https://www.baseball-reference.com/players/r/rixeyep01.shtml
https://sabr.org/bioproj/person/Eppa-Rixey/