By Zane Miller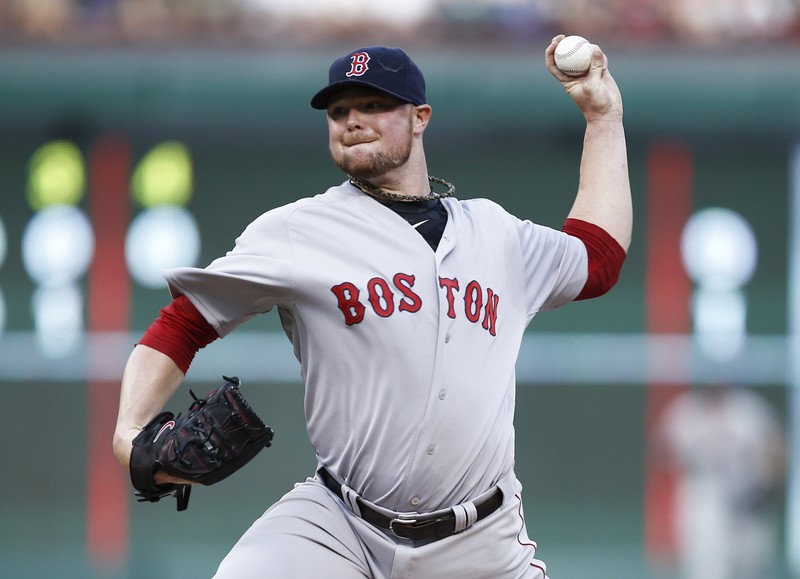 I wanted to do a quick article today, so I figured I'd go ahead and do the update for the list of all the number one selections for my Top 5 World Series lists, with a major improvement as all of the years in the list are highlighted in green to link to the original articles to make it easier to go back to read those ones for more details.
Anyways, here's all 115 of the number one players from each World Series so far. If there is an asterisk next to them it means that their team did not win the series that year.
Former New York Yankees pitcher Andy Pettitte and current Chicago Cubs pitcher Jon Lester are tied for the most appearances at the number one spot with three apiece, with Pettitte's coming in 1996, 1998, and 2000; while Lester's occurred in 2007, 2013, and 2016.
1903- Bill Dinneen (Americans)
1905- Christy Mathewson (Giants)
1906- George Davis (White Sox)
1907- Orval Overall (Cubs)
1908- Orval Overall (Cubs)
1909- Honus Wagner (Pirates)
1910- Chief Bender (Athletics)
1911- Jack Coombs (Athletics)
1912- Smoky Joe Woods (Red Sox)
1913- Eddie Plank (Athletics)
1914- Bill James (Braves)
1915- Rube Foster (Red Sox)
1916- Babe Ruth (Red Sox)
1917- Eddie Cicotte (White Sox)
1918- Carl Mays (Red Sox)
1919- Edd Roush (Reds)
1920- Stan Coveleski (Indians)
1921- Phil Douglas (Giants)
1922- Jack Scott (Giants)
1923- Herb Pennock (Yankees)
1924- Tom Zachary (Senators)
1925- Walter Johnson (Senators)*
1926- Jesse Haines (Cardinals)
1927- Wilcy Moore (Yankees)
1928- Lou Gehrig (Yankees)
1929- Howard Ehmke (Athletics)
1930- Jimmy Dykes (Athletics)
1931- Burleigh Grimes (Cardinals)
1932- #23 Tony Lazzeri (Yankees)
1933- #11 Carl Hubbell (Giants)
1934- #21 Paul Dean (Cardinals)
1935- #12 Lon Warneke (Cubs)*
1936- #14 Bump Hadley (Yankees)
1937- #3 George Selkirk (Yankees)
1938- #15 Red Ruffing (Yankees)
1939- #16 Monte Pearson (Yankees)
1940- #31 Bucky Walters (Reds)
1941- #22 Marius Russo (Yankees)
1942- #1 Whitey Kurowski (Cardinals)
1943- #22 Marius Russo (Yankees)
1944- #21 Max Lanier (Cardinals)
1945- #11 Dizzy Trout (Tigers)
1946- #31 Harry Brecheen (Cardinals)
1947- #27 Johnny Lindell (Yankees)
1948- #21 Bob Lemon (Indians)
1949- #22 Allie Reynolds (Yankees)
1950- #17 Vic Raschi (Yankees)
1951- #17 Vic Raschi (Yankees)
1952- #22 Allie Reynolds (Yankees)
1953- #16 Whitey Ford (Yankees)
1954- #43 Johnny Antonelli (Giants)
1955- #45 Johnny Podres (Dodgers)
1956- #14 Gil Hodges (Dodgers)*
1957- #33 Lew Burdette (Braves)
1958- #12 Gil McDougald (Yankees)
1959- #53 Don Drysdale (Dodgers)
1960- #1 Bobby Richardson (Yankees)*
1961- #11 Hector Lopez (Yankees)
1962- #23 Ralph Terry (Yankees)
1963- #53 Don Drysdale (Dodgers)
1964- #14 Ken Boyer (Cardinals)
1965- #32 Sandy Koufax (Dodgers)
1966- #19 Dave McNally (Orioles)
1967- #45 Bob Gibson (Cardinals)
1968- #6 Al Kaline (Tigers)
1969- #41 Tom Seaver (Mets)
1970- #26 Boog Powell (Orioles)
1971- #7 Bob Robertson (Pirates)
1972- #30 Ken Holtzman (A's)
1973- #27 Catfish Hunter (A's)
1974- #30 Ken Holtzman (A's)
1975- #24 Tony Perez (Reds)
1976- #5 Johnny Bench (Reds)
1977- #44 Reggie Jackson (Yankees)
1978- #15 Thurman Munson (Yankees)
1979- #3 Kiko Garcia (Orioles)*
1980- #20 Mike Schmidt (Phillies)
1981- #41 Jerry Reuss (Dodgers)
1982- #37 Keith Hernandez (Cardinals)
1983- #46 Mike Flanagan (Orioles)
1984- #47 Jack Morris (Tigers)
1985- #30 John Tudor (Cardinals)*
1986- #8 Gary Carter (Mets)
1987- #16 Frank Viola (Twins)
1988- #9 Mickey Hatcher (Dodgers)
1989- #36 Terry Steinbach (Athletics)
1990- #27 Jose Rijo (Reds)
1991- #23 David Justice (Braves)*
1992- #66 Juan Guzman (Blue Jays)
1993- #1 Tony Fernandez (Blue Jays)
1995- #47 Tom Glavine (Braves)
1996- #46 Andy Pettitte (Yankees)
1997- #18 Moises Alou (Marlins)
1998- #46 Andy Pettitte (Yankees)
1999- #22 Roger Clemens (Yankees)
2000- #46 Andy Pettitte (Yankees)
2001- #51 Randy Johnson (Diamondbacks)
2002- #23 Scott Spiezio (Angels)
2003- #21 Josh Beckett (Marlins)
2004- #32 Derek Lowe (Red Sox)
2005- #12 AJ Pierzynski (White Sox)
2006- #36 Jeff Weaver (Cardinals)
2007- #31 Jon Lester (Red Sox)
2008- #35 Cole Hamels (Phillies)
2009- #26 Chase Utley (Phillies)*
2010- #55 Tim Lincecum (Giants)
2011- #25 Mike Napoli (Rangers)*
2012- #40 Madison Bumgarner (Giants)
2013- #31 Jon Lester (Red Sox)
2014- #8 Hunter Pence (Giants)
2015- #35 Eric Hosmer (Royals)
2016- #34 Jon Lester (Cubs)
2017- #4 George Springer (Astros)
2018- #25 Steve Pearce (Red Sox)
2019- #6 Anthony Rendon (Nationals)
If you enjoyed this article, please consider becoming a supporter on Patreon! For just $1/month, you can help support articles like these and get great benefits as well: https://patreon.com/Zmiller82

Follow me on Twitter: https://twitter.com/Zmiller_82