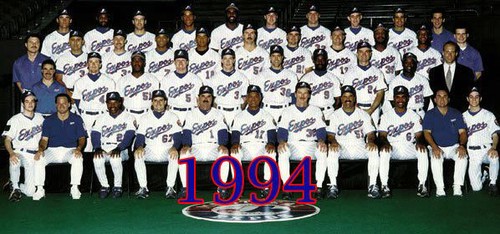 By Zane Miller
The 1994 World Series was a series that would have been played between either the New York Yankees, Chicago White Sox, Cleveland Indians or Texas Rangers against either the Montreal Expos (now Washington Nationals), Atlanta Braves, Cincinnati Reds or Los Angeles Dodgers. It could have been the first World Series appearance for the Expos and Rangers, fourth for the Indians, fifth for the White Sox, seventh for the Braves, 10th for the Reds, 17th for the Dodgers and 34th for the Yankees.
The Expos finished the regular season with the best record in the National League and the MLB as a whole, going 74-40, as the Yankees had the best record in the American League at 70-43, making the Expos and Yankees the most likely teams that would have faced each other, based off of regular season standings.
However, the reason why the 1994 World Series never came to fruition was due to a league-wide players' strike with just over a month remaining in the scheduled regular season.
On Friday, August 12th, 1994, the strike officially began, as the MLB Players Association demanded against the placement of a salary cap that had been proposed by team owners over the past couple of months leading up to the strike. As a result, the regular season was brought to a halt.
While the regular season was ended early, the postseason and therefore the World Series could theoretically have still been played if the strike was able to have been resolved quickly, however, this was not the case and, on Wednesday, September 14th, 1994, the rest of the season was officially called off.
Link to Part 2: https://scorum.com/en-us/mlb/@zmiller82/why-the-1994-world-series-never-happened-pt-2
If you enjoyed this article, please consider becoming a supporter on Patreon! For just $1/month, you can help support articles like these and get great benefits as well: patreon.com/Zmiller82
Follow me on Twitter: twitter.com/Zmiller_82