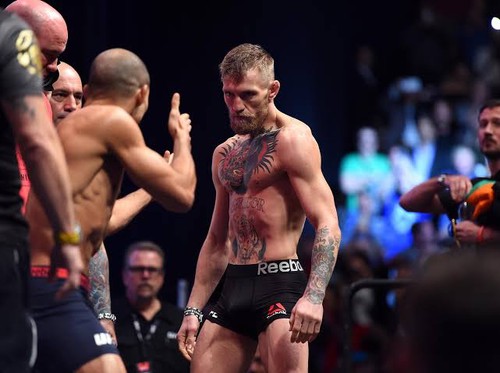 Dana White, president of the UFC, appeared on the Australian news program "The Project" on Tuesday, It was to promote UFC 234 in Melbourne, Australia.
The main event, which will be held on February 11 next year, is a fight between Australia's Robert Whittaker (28) and Calvin Gaselum (27, USA). About three months later, the two players will have a showdown over the middleweight title.
Question were thrown at Dana and The recording didn't flow as planned. The wrong topic heated up the recording studio.
It was a story that had nothing to do with the Australian Games.he was asked the violence caused by Connor to which he replied " Connor McGregor (aged 30, Ireland) committed a bus disturbance in April, and is now in the hands of panels, hosts and guests."
The MMA News, a U.S. mixed martial arts news site, was not in the mood of questioning (White representative), but the question of the host was somewhat offensive. "It was definitely a reproachful tone, and we ended up covering the studio with a sort of fighting air."
Dana White
"Let's talk about a series of events that MacGregor and Khabin Numagomef have done," the project organizer said. It's almost a novel. McGregor attacked a bus that was occupied by fighters seven months ago. After the game, Hahm jumped Cage and caused violence. You commented that as a team leader you are very angry at the actions of both players. Are you right?"
The main argument was: The presenter said, "In my view, as a third-party, I think you're not angry. I have not been told that Khabib and McGregor have received any 'grace' from the UFC. I never heard of the fact that I paid for it. Let's be honest. Don't you like their behavior? Since we can gather huge issues without a moment's sleep, what better way to promote ourselves than this? Don't you think so, Dana?"
White immediately rebutted. Not only is it not true, but such violent exposure is not conducive to business growth at all.
``Many people ask the same questions as you. 'Hey, but inside, is that good? It's bad, but it's good for a box office,' he asks secretly. But I can say for sure. Khabib and McGregor behavior have no positive impact on business. "We don't think such actions are necessary to sell PAVs."
Then the host said, "Well, why don't we take any action? Did you know that there is a controversy over the manipulation of the bus case? There are suspicions about the over-balanced camera structure and open-screen views that viewers can see clearly. All of this is planned by UFC."
White is also a tough opponent in the fight. He punched a counter at a socialite. The UFC Imbedded video crew responded sternly, saying, "Although cameras were installed at various stadiums, manipulation of the video is nonsense at the association level."
"The voice of White who refuted the second question has become higher and the tone has become more aggressive," MMA News said.
White said, "We always put a cameraman around (played by players) in order to capture every aspect of the UFC fighter. If necessary, install cameras. Through this process, UFC embedded images are created. There were many players sitting on the bus that McGregor visited. "There was a professional cameraman around and a good screen was available."
"I don't know if he knew it, but McGregor was arrested (the New York police). He went straight to prison! He later appeared before the New York Court. Under such circumstances, what punishment can I impose? Suspended business trip? He was already locked up in prison and couldn't get hung up. I hope you know exactly what happened and ask questions."
The same goes for the case." While waiting for a decision by the National Sports Council of Nevada, the UFC stressed that it is not desirable for the UFC to make punishment gestures first.
Nevada's laws, of course, are more 'greater' laws and principles than UFC regulations, and ask what and how to punish them more.
White said, "We were taken to the police immediately after the violence in UFC 229. He is also under detention and cannot be paid. In this situation, I hope you will think about how useful it is to give them disciplinary action such as suspension.